Page 1 of 4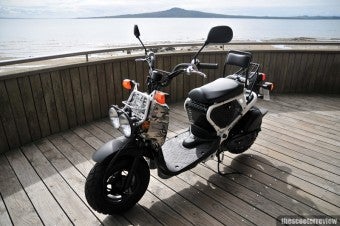 Just before the guy from Honda hands over the keys to the Honda Ruckus 50cc. He gives me a rifle and screams that I'm a useless maggot, and orders me to give me 25 push-ups. NOW!
I struggle through the push ups, afterwards he takes me deep inside Honda HQ to a unmarked door which opens, it's a lift. We go down to basement floor, as the door opens I see through the steam, and flashing red lights the 2007 Honda Ruckus 50cc.
The paint job is all camo upfront and utilitarian black for the rest. Camo on a Honda! That's what hoodie wearing baggie-jeans teenagers wear when they go snowboarding. Not on a Japanese scooter.
Last Updated ( Monday, 11 May 2009 12:00 )