Page 3 of 4
The brakes are rubbish from the early days to scootering. Drums front and rear. Now, all joking aside, you can still make a cool scooter and give it a disc-brake. Come on Honda.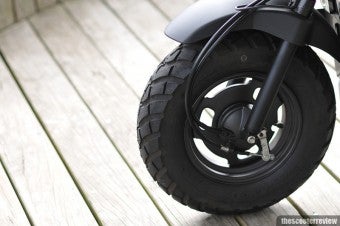 Normally, a scooter can hold a open-face helmet at a minimum, but the Ruckus has no lockable storage. The tested model had some factory Honda extras added, which gave some unlockable storage under the seat, which was accessed via little clip. There is a lockable bolt that you can put through your helmet to secure it. Hope it doesn't rain!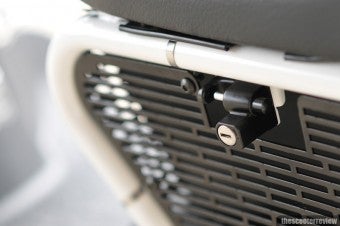 The Ruckus is powered by a 50cc four-stroke engine that produces 3.65Kw (5hp) in Japan and the United States and only 4hp in Europe. Being a four-stroke it doesn't have the off-the-line speed of the two-strokes but its certainly not slow for a four-stroke 50cc, The 0-30mph dash is done in 12.5sec which compares well to the 15.2sec of the Honda Today Motorino and almost 20sec for the Piaggio Zip 50cc. If you can handle the buffeting then the top speed is around 36 mph/60kph on the flat.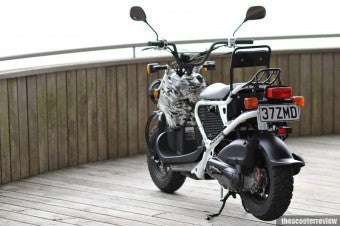 The basic model weights 82kg, which is surprisingly heavy for such a light looking scooter. The Honda Today weighs a feather-weight 71kg, and the two-stroke, Yamaha Jog 2009 comes in at 69kg. The reason for this extra weigh on the Ruckus is a water-cooled engine, and BIG tyres.

The fuel tank holds 4.9 liters, and consumes gas at 19m/30Km per litre. Amazing when you consider its heavier than its competitors. It is undoubtly the most useable 50cc four-stroke on the market.  Crusing around the city streets is easy enough, don't try and put your knee down 'round a corner, those big, knobbly tires feel a bit sketchy. The Honda is designed for cruising, its got very wide handle-bars compared with other 50's, which make it feel relaxed and gives the rider confidence, but does effect your ability to squeeze through rush-hour queues.
Last Updated ( Monday, 11 May 2009 12:00 )