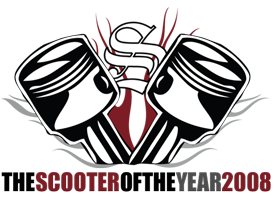 Scooter of the year

Well it's that time of the year…well it is for us. Now normally people are getting excited about the new year at this stage. 'What will I get accomplished this year?' Well not us. We're reflecting on the year just gone and trying to come up with an answer to the age old question. Which is the years best scooter? Normally these sorts of stories are published in December… We decided however that as it was officially our birthday on the 12th of Feb it was best to make this actually the "Scooter of our year" mainly just because we can… do you have a problem with that!?

What do we base this all on though? Is it the fastest? Is it the best value for money? Well we already cover all that in our reviews and generally end up with the correct results. Sometimes better scooters don't rate too well because they simply fail in one category. Our rankings really target the best all-rounders. However this is scooter of the year. Put simply it means this, of all the scooters we rode in 2008, which was the bike that most impressed us? Which scooter innovated, which scooter combined all the various aspects required and left us just wishing we owned one…let's begin.



3rd Place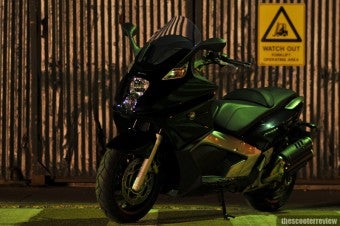 Gilera GP800

Now I can hear the complaining already. 'The GP800 is heavy. The GP800 is expensive'. Yes and yes, it is both of those. It also the only maxi scooter we'd spend our money on. The reason? Well that's simple; we love riding. Most of the team here at The Scooter Review ride motorcycles along with scooters and because of this we expect a lot from a maxi scooter. Sadly most maxi scooters are heavy, cumbersome two wheeled contraptions that should really only be used for scrap metal… or plastic recycling perhaps?. A bit harsh? Nope, it's true. Most maxi's are so vastly underpowered they are just dead BORING to ride. Okay, if you think wafting along with 35hp is riding. Good for you, I'm happy for you. There's also a website you should visit…it's called www.themobilesofa.com. If you like to be able to overtake cars at a whim and carve effortlessly up a mountain pass, there's simply only one maxi scooter that can do it. The Gilera GP800. It really doesn't matter if you like the GP800 or not. If you're into maxi scooters then you'll love what it's done to the industry.  Suddenly the Japanese manufactures are sitting up and listening to their customers. Maxi riders actually want more powerful and more exciting models.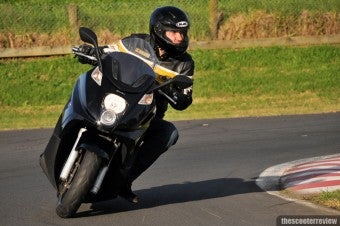 If you haven't already given the GP800 a test ride, do so immediately. I'm certain it will affect you. You may still want your Burgman or Silver Wing as they store more and make better long distance machines…however you will want the engine. You'll want it real bad. You'll wonder why you can't buy a Suzuki or a Honda with a motor like the GP800. It'll plague your mind from that day forth and one of two things will happen. You'll come up with a bunch of lies to justify why you still like your underpowered maxi or you'll simply give up and buy one…I can prove I'm right too. See the second Yamaha, Honda or Suzuki release a powerful and sporty maxi scooter (which we expect from both in 2009) they'll sell like mad. Proving what we keep ranting about…current maxi scooters are functional but dead boring. All except the Gilera GP800, it's a game changer. 


2nd Place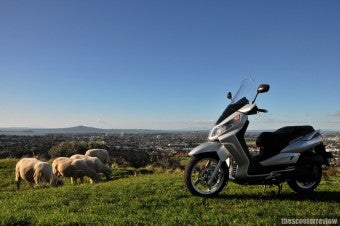 SYM Citycom 300
The SYM Citycom was a real surprise for us. One day we were moaning, the next day we were smiling. It was our usual rant. Scooters are convenient etc but why on earth do they have to be so damned wimpy? For a while now we've been harping on about it. It's not just the maxi scooters that keep getting lambasted. It's the full size models too. I imagine it's because for a while now manufactures have been stuck on 200 or 250cc models. Well finally the dam has broken. 300cc is the new black. I wonder how people ever rode 200cc models now. It seems 300cc strikes the perfect blend between power, size, weight and economy. The latest crop of 300cc models from all of the various manufactures are all light years better than bikes from just twelve months ago. The Citycom just blew us away.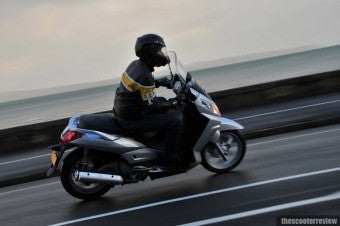 It's almost the perfect scooter. It has plenty of storage; it rides well and comes from a quality manufacturer. Of all the bikes we've tested it makes the most sense. If you need to ride on the freeway or do some long distance riding there really isn't a better scooter for anything like the money you can buy a Citycom for. It's the price that really makes the Citycom standout. In some markets it's actually half the price of competing models…half. Think about it. The Citycom 300 is simply the best value full size scooter on the market today. Forget all the technical guff; just take it for a test ride. You'll see what we're on about. For a human being living in a city on this planet, it just makes sense.


1st Place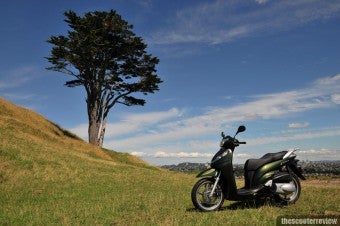 Honda SH300

Yes I know, the SH300 is our top ranked bike. Why even write a scooter of the year article then? Well it isn't that simple. We still sat down an argued about all the various competitors over and over again. The problem was we had to give the win to the SH300, it's the best scooter of 2008. Hell it's the best scooter…period. Think about it. The SH300 is the fastest regular sized scooter money can buy. You need to buy a 500cc maxi scooter to get in front of it and even then it beats some of them in a drag race. It has ABS brakes, not some ineffective system that's thrown on as an afterthought; we're talking a linked system that provides incredible braking in any conditions. When you're lying under a truck wishing your legs were still attached to your torso the rider on an SH300 will be stopped many feet behind you. Probably thinking 'Ouch, that looks painful. That guy should have bought an SH'. If you don't believe us, try this. Panic brake while riding around a wet roundabout…you'll be on the deck. The SH rider will simply stop (do not try this at home, the abs really is awesome but we would hate to be responsible for a broken bike… or rider. Ed.). The SH has also set a benchmark in the handling department; the large wheels and rigid chassis combine to give the rider complete confidence. It's funny after riding the SH I often wonder how people handle riding mere mortal scooters…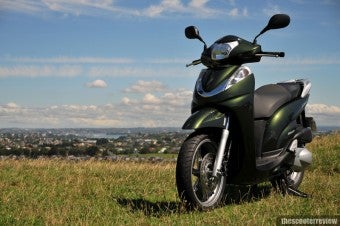 Add in Honda's superb build quality and it's pretty easy to see why it's competitors had no real chance. The SH is simply too powerful, too sharp and way too refined for its competition to even get a look in. Maybe next year it'll actually be a fight because this was a first round knock out. The Honda SH 300 is our 2008 Scooter Of  The Year. Congratulations Honda. Bring on a SH350 with twin full face helmet storage and 2009 could be yours too…
   
Comments
(12)


Subscribe to this comment's feed