Written by NSR-Dan
Wednesday, 06 May 2009 23:12
Custom "Chinese" 50 ITS ALIVE
Page 1 of 4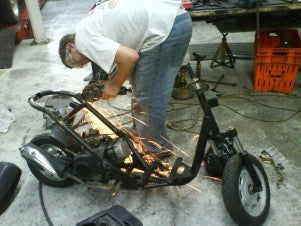 Ok all this is a new project from a contributor here in lil' ol' New Zealand a ground up very fast 4T scooter build. We will try and keep you all up to date with the project... Code Named "Milf Hunter" (the builders name, not ours so don't give us a bunch of crap about the name.)

I bought a crap chinese scooter from trademe (NZ's version of ebay. ED) for $54 dollars it wasnt working, but it had what i needed which was an un bent frame and a GY6 50cc engine case that wasnt wrecked.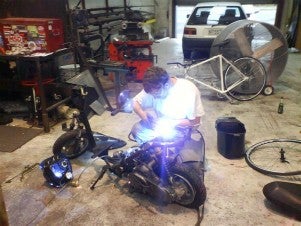 I started by ripping the engine right down for a blue print and full rebuild with new (non chinese) parts. I dremmeled out all the machining marks in the engine case and ground all the oil tracks to the honda GY6 spec cleaned it all up so it was all nice and tidy.

Ordered all the internals which was a new crank from scooter attack in germany, the cylinder is a 90cc made by BGM with a super corsa piston, head is a performace variant with big valves and larger porting and a race cam shaft also from BGM in Germany.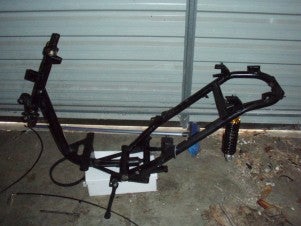 Put the engine all back together checked timing and valve gaps. Now coming to the carb it was difficult as i could not find a matching intake manifold for the carb to the head that was a 21mm, so a i bought one that matched the head and modified to suit but filling with JB weld and port matching to the carb with a custom made insulator.

Gearbox being a CVT needed an overhaul so a new sport variator from Naraku in Japan that is designed for modified engines above 72cc, the clutch needed to be good to cope with the power to the wheels, so an RMS racing clutch with adjustable springs which i have set to release at 3000rpm, also fitted a heavy duty contra spring and racing clutch drive plate for better acceleration. I replaced all the bearings in the final-gear box that i sourced from SKF and filled with motul performance GB oil.
Last Updated ( Thursday, 24 September 2009 22:40 )