Written by NSR-Dan
Wednesday, 06 May 2009 23:12
Custom "Chinese" 50 ITS ALIVE - Page 2
Page 2 of 4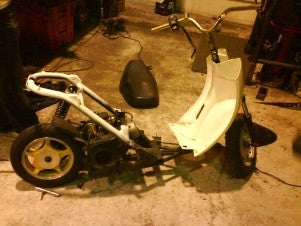 I still need to make up the loom for the scooter but i have already got a racing CDi and racing coil for a Yamaha scooter, a new Trailtech vapour will be hard wired into the loom with an RPM guage and engine temp, also got a digital rectifier from KOSO to help with getting the right voltage through the system as the chinese ones tend to suck, tail light to be fitted is from an 07 ZX-6R, have yet to decide what to do for the front (suggestions welcome. ED).

Frame has been cut up and re-welded as its going to have a naked rear end. fuel tank has been lowered to allow for a lower seating arrangement, handle bars are to be replace with a downhill mountainbike set up, so it should have a good setup for knees down scooter riding haha. Brakes have been tidied up and have been fitted with braided lines that my friend made up with earls fittings and airoquip lines, Suspension on the front was overhauled with new valves and oil along with a YSS racing shock for the rear. New wheels join the package as the others were... lets say a little worse for wear, the new hoops are fitted with some nice Michelin S1 tyres.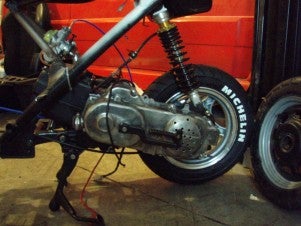 Still a bit to do with the welding and electrical, I have to put the gearbox together and get the engine started but I'll keep everyone posted as i update everything. and if anyone asks why a chinese scooter, well the answer is that parts for the engine are cheap and easily available, and the only chinese stuff left is parts of the frame and the engine casing, otherwise its German, Japanese and a bit of Kiwi inginuity.

I'm not 100% sure about the seat location as yet but I will be welding some pegs on for a slightly different seating position.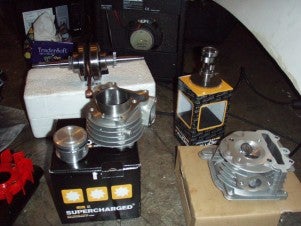 Some more parts have arrived from Scootling.

Stage 6 Racing clutch bell
Naraku High Speed variator
Malossi kevlar belt
str8 Belmouth filter
and some fuel hose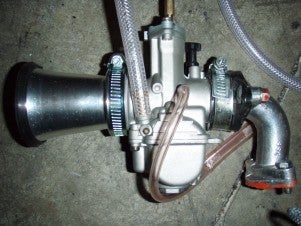 Latest additions. Put together the gear box, and if anyone is interested the set up is naraku high speed variator with 6.3gr weights, 1000rpm contra spring, RMS racing clutch with weener springs set to 2500rpm, stage 6 winged racing clutch bell and all connected with a malossi kevlar belt.

Keep your eyes open for further updates and when it is all together the Scooter Review will have a full feature on this bad boy.
 
Last Updated ( Thursday, 24 September 2009 22:40 )