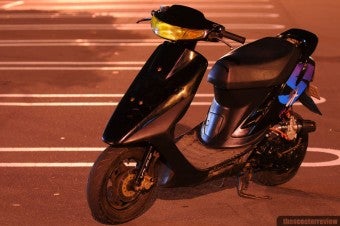 10 teaspoons is about equal to 50cc of gas and that is all that's needed to run a 50cc scooter. Not much, in fact that is nothing in today's world of grandé lattes, Big Macs, and 10 litre V10 SUVs. But 50cc is all that is needed: To work, to school, to the shops. It always confuses me why people struggle through traffic when the answer to their problem is effortlessly cruising pass them using a millionth the gas.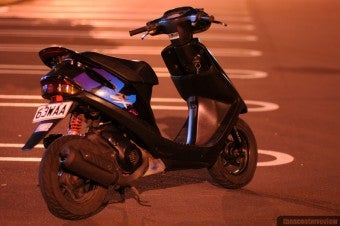 So what scooter to get? If you've never ridden a scooter before, then a 50cc is the perfect place to start. For many, 50cc is all you'll need as long as you don't have to ride on the open road.
So what 50cc scoot to get? When looking into the different models you'll find that there are more unknown brands of scooter than cars stuck in grid lock. All of them look the same. But what get can vary considerably. One of the scoots that has risen to the top of the Japanese fleet is the Honda Dio. They've been produced for over 15 years, and are a favourite choice of tuners and hardcore 50cc/70cc racers around the world. The Dio started off with a Horizontal engine, before changing to the current vertical set-up. The newer models have a great little front disk brake, while earlier and low spec models have drums that are woefully bad.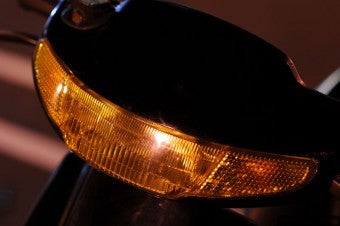 Why a Dio over other 50cc scoots? The Dio has a proven track record – as long as you fill the little 2 stroke oil reserve it will just keep going. Honda motors are famous for going and going, and the Dio motor is one of the simplest Honda motors you can buy – safe bet; I say.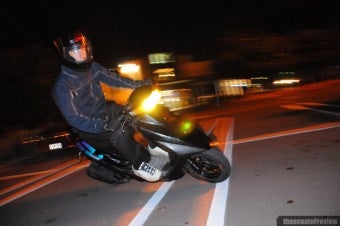 The Dio has great storage, and can hold a full face helmet and gloves in the secure, under seat storage. There is also a bag hook, and small open glove box. Its small enough to park any where, and the size also helps when it comes to pushing pass queues of rush hour gas guzzlers. Car wing mirrors have to be almost touching to stop the little Dio slipping through to the front of the traffic queue.
But the Dio isn't perfect the standard rear shock is, well.. a pogo stick. It is not to hard for the average European male to bottom out the shock as a part of normal driving. If you own a older 50cc scoot with the standard rear shock, you should look at upgrading it, you won't regret it. The model pictured has had rear shock upgraded, as well as few other induction modifications.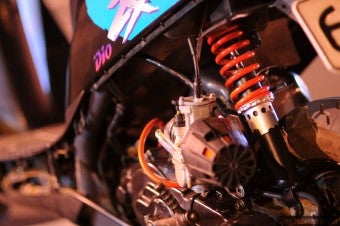 The 10 inch wheel while keeping the rolling weight down, can cause the scoot to become unsettled when cornering and large pot holes can be quite jarring.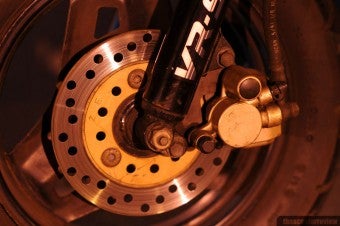 Sitting on the Dio, the controls are simple and easy to read. The speedo reads to a maximum speed of 60kph, and the Dio can get there on a flat road, no problems. The seat is long and flat allowing a wide range of riders to sit comfortably on the scooter, but there is no pegs, or handles for a pillion passenger – which is good as the standard rear shock wouldn't cope very well.
The Honda's body work made of plastic and while it is light it does have a down side. Rattles – at idle on the tested model there was quite a bit of vibration this could have been due to wear on the engine mounts, but it does seem to a common characteristic of many Japanese 50cc bikes. Some might find this annoying, but it doesn't take long to forget about it if you're riding it on a daily basis.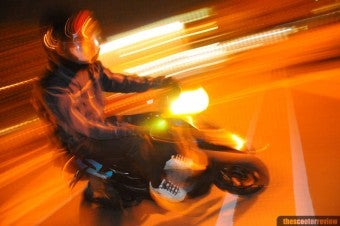 Cheap – But is it? The cash outlay on a second hand Honda Dio is very low for almost everyone. Hence high number you'll see parked out side the local university. But what you get is great value. It is a solid scooter that will get you around town, quickly, reliably and with minimal cost.
So if you're looking for a cheap, light, easy to ride little run around, that doesn't force you to the side of the road due to its lack of speed then you should definitely look at a second hand Honda Dio. One of the greatest Japanese 50cc scoots around.
Price
$NZ600-1300 second-hand
0-50km/h
12.6 Seconds
Top Speed
---
Fuel Economy
2.8L/100kms - 84MPG
Speedo Accuracy

50kph displayed = 49kph actual

---

Pros:

Proven track record, Light, good gas mileage, easy to move about, good storage,
lots of after-market parts.

Cons:

Getting old, models still exist with drums front and rear, looks pretty boring.

---

Handling
Performance
Fuel Consumption
Value for Money

Ease of Use

Styling
Build quality

---

Overall Score

70%
Manufacturer Specifications
| | |
| --- | --- |
| Max power at shaft | 3.6 KW (5.6 HP) @ 6500 RPM |
| Max torque | 0.68kgm at 5500 rpm |
| Engine Type | Single-cylinder 2 stroke |
| Cylinder Capacity | 49cc |
| Seat height | 720mm |
| Dry weight | 64kg |
| Kerb weight | 69kg |
| Fuel tank capacity | 4.2 liters |
| Starting | Electric & Kickstart |
| Transmission | CVT "Twist and Go" |
| Storage volume | --- |
| Cooling | Force air cooled |
| Bore X stroke | 39.0 x 41.4 mm |
| Compression ratio | 7.0 |
| Chassis | Steel Tube |
| Front suspension | Hydraulic fork |
| Rear suspension | Unit swingarm |
| Front brake | Disc on certain models |
| Rear brake | Drum |
| Front wheel/tyre | 90/90-10" 50J |
| Rear wheel/tyre | 90/90-10" 50J |
| Length | 1660mm |
| Width | 630mm |
| Wheelbase | 1175mm |
| Max speed (km/hr) | 55km (restricted) |
| Type approval | --- |
| Consumption (ECE applicable text cycle) | --- |
| Consumption @km/h - km/l | --- |
| Audible Indicator | yes |
| Full helmet storage | yes |
| Glove box | yes (open) |
| Fuel Guage | yes |
| Trip Meter | no |
| Seat release (via remote control) | no |
| Seat release (remote, ignition/switch) | no |
| Alarm | no |
Comments
(9)


Subscribe to this comment's feed
Last Updated ( Friday, 08 August 2008 12:32 )