Page 3 of 3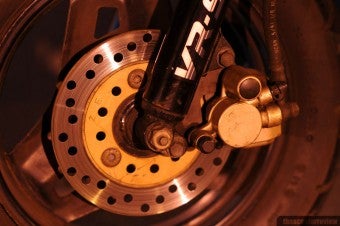 Sitting on the Dio, the controls are simple and easy to read. The speedo reads to a maximum speed of 60kph, and the Dio can get there on a flat road, no problems. The seat is long and flat allowing a wide range of riders to sit comfortably on the scooter, but there is no pegs, or handles for a pillion passenger – which is good as the standard rear shock wouldn't cope very well.
The Honda's body work made of plastic and while it is light it does have a down side. Rattles – at idle on the tested model there was quite a bit of vibration this could have been due to wear on the engine mounts, but it does seem to a common characteristic of many Japanese 50cc bikes. Some might find this annoying, but it doesn't take long to forget about it if you're riding it on a daily basis.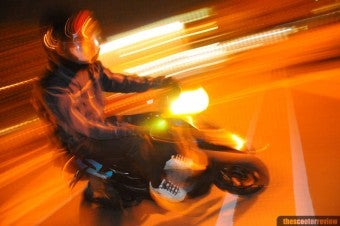 Cheap – But is it? The cash outlay on a second hand Honda Dio is very low for almost everyone. Hence high number you'll see parked out side the local university. But what you get is great value. It is a solid scooter that will get you around town, quickly, reliably and with minimal cost.
So if you're looking for a cheap, light, easy to ride little run around, that doesn't force you to the side of the road due to its lack of speed then you should definitely look at a second hand Honda Dio. One of the greatest Japanese 50cc scoots around.
Price
$NZ600-1300 second-hand
0-50km/h
12.6 Seconds
Top Speed
---
Fuel Economy
2.8L/100kms - 84MPG
Speedo Accuracy

50kph displayed = 49kph actual

---

Pros:

Proven track record, Light, good gas mileage, easy to move about, good storage,
lots of after-market parts.

Cons:

Getting old, models still exist with drums front and rear, looks pretty boring.

---

Handling
Performance
Fuel Consumption
Value for Money

Ease of Use

Styling
Build quality

---

Overall Score

70%
Manufacturer Specifications
| | |
| --- | --- |
| Max power at shaft | 3.6 KW (5.6 HP) @ 6500 RPM |
| Max torque | 0.68kgm at 5500 rpm |
| Engine Type | Single-cylinder 2 stroke |
| Cylinder Capacity | 49cc |
| Seat height | 720mm |
| Dry weight | 64kg |
| Kerb weight | 69kg |
| Fuel tank capacity | 4.2 liters |
| Starting | Electric & Kickstart |
| Transmission | CVT "Twist and Go" |
| Storage volume | --- |
| Cooling | Force air cooled |
| Bore X stroke | 39.0 x 41.4 mm |
| Compression ratio | 7.0 |
| Chassis | Steel Tube |
| Front suspension | Hydraulic fork |
| Rear suspension | Unit swingarm |
| Front brake | Disc on certain models |
| Rear brake | Drum |
| Front wheel/tyre | 90/90-10" 50J |
| Rear wheel/tyre | 90/90-10" 50J |
| Length | 1660mm |
| Width | 630mm |
| Wheelbase | 1175mm |
| Max speed (km/hr) | 55km (restricted) |
| Type approval | --- |
| Consumption (ECE applicable text cycle) | --- |
| Consumption @km/h - km/l | --- |
| Audible Indicator | yes |
| Full helmet storage | yes |
| Glove box | yes (open) |
| Fuel Guage | yes |
| Trip Meter | no |
| Seat release (via remote control) | no |
| Seat release (remote, ignition/switch) | no |
| Alarm | no |
Comments
(9)


Subscribe to this comment's feed
Last Updated ( Friday, 08 August 2008 12:32 )