Page 2 of 3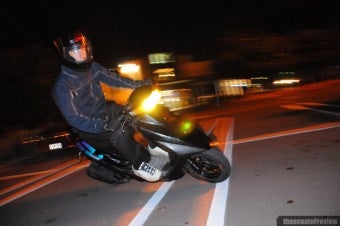 The Dio has great storage, and can hold a full face helmet and gloves in the secure, under seat storage. There is also a bag hook, and small open glove box. Its small enough to park any where, and the size also helps when it comes to pushing pass queues of rush hour gas guzzlers. Car wing mirrors have to be almost touching to stop the little Dio slipping through to the front of the traffic queue.
But the Dio isn't perfect the standard rear shock is, well.. a pogo stick. It is not to hard for the average European male to bottom out the shock as a part of normal driving. If you own a older 50cc scoot with the standard rear shock, you should look at upgrading it, you won't regret it. The model pictured has had rear shock upgraded, as well as few other induction modifications.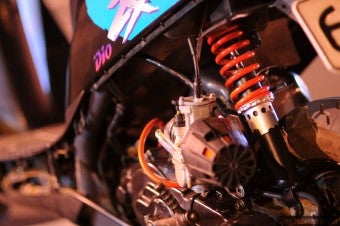 The 10 inch wheel while keeping the rolling weight down, can cause the scoot to become unsettled when cornering and large pot holes can be quite jarring.
Last Updated ( Friday, 08 August 2008 12:32 )