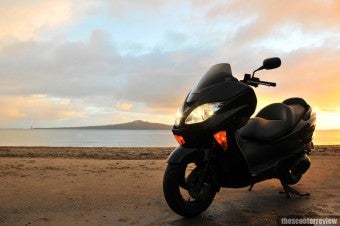 The Honda Forza 250 gelled with me instantly… once I learnt to ignore how… well… slow it was that is. I liked it straight away. I think it was because it had personality. You see the truth is I have a fetish… a dirty secret you might say. Don't worry it has nothing to do with goats, gerbils or any kind of undersea invertebrate. The thing is… I like cars, please don't be upset I don't just like any cars, I like old cars… the rustier and more unreliable the better. Stop hitting the escape key!
I have a good reason for liking these "old piles of junk" as those not afflicted call them. You see they have character, charm… in short… Personality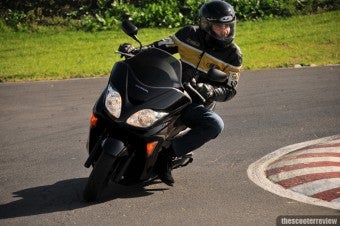 The Forza is a modern, even futuristic machine… with no rust to be seen… the press bike tested was nearly 4 years old and holding up just fine. No, the only thing the Honda had in common with a car I might try and rescue from a scrap yard is personality. This is something I would never have expected from any of Honda's products. You see, Honda scooters don't really have personality… they tend to be so well put together that they have all personality engineered out of them. This is not to say the Forza isn't well built, far from it, however it did have personality… and gadgets…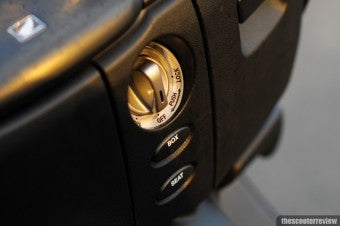 I am not sure where the Forza's charm comes from; it could be the low slung, laid back riding position that makes you feel like you are riding some sort of sled. It could be because it leans and changes position like a much smaller bike while still managing to be as comfortable as an armchair. I am not entirely sure what it is; the fact of the matter is, on paper, I should hate this machine. It is low powered and heavy. It is a big wide maxi scooter that you can't tour on due to its 110kph speed cut (which is potentially as fast as it can go with the factory gearing). So it is a touring scooter that you can only use as an urban commuter… This is where it gets interesting, you see it turns and manoeuvres like a much smaller machine. I suspect this is mainly an effect of the extremely low centre of gravity and relatively narrow tyres. The Forza snatched one of our quickest times to date around the TSR test track, this was unexpected but the scooter did inspire the confidence to ride it hard. This translates to the road as very nimble handling while carving through traffic or sneaking to the front of the cue at traffic lights.
Suspension and braking were both solid; with discs front and back stopping was always predictable and strong. The suspension was stiff enough for some spirited riding yet compliant enough to soak up road imperfections. The Forza will accommodate a pillion with ease. The seat is big and comfortable with a higher back support than either the Burgman or Silverwing. This back support doubled as a barrier, stopping the pillion sliding forward while braking. My pillion was most happy with her ride (she thought the Forza looked pretty damned cool too)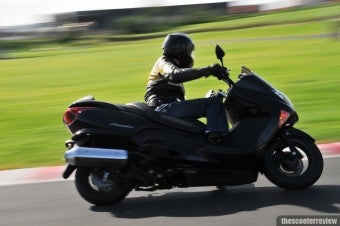 Now… the gadgets… there are many… from the decidedly useful "keyless ignition" which consists of a plastic key fob that activates the bike when the rider is nearby, to a less useful "tiptronic" type transmission. First up, the Keyless ignition; essentially the Forza is controlled by a big knob… not the guy riding… an actual knob… like you might see on a washing machine. When the key fob is within range of the bike you just push the knob and this activates the electronics… you know they are active because everything glows blue… then you can turn the knob to the On, Off, Lock etc positions. Once set to "on" you just retract the side stand, hit the starter button and you are away. When the fob is a few feet from the bike the Forza automatically immobilizes itself. In emergency situations there is a hidden slot where you can use a standard key for access.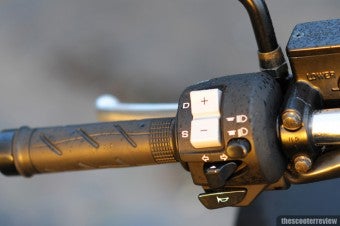 Next gadget… Transmission… the transmission has 3 modes; Manual, Drive and Sport. "Drive" and "Sport" are engaged simply by pushing a toggle on the handle bar that also controls the gear selection in "Manual" mode The only difference between the two is a slight increase in allowable revs on the Sport mode. I found myself staying in Drive most of the time to get the best fuel economy and switching to Sport for passing (or track testing). In either mode acceleration was under whelming but smooth and predictable. The "Manual" mode is activated via a discrete switch on the back of the right handle bar and is essentially a manual version of sport mode. Realistically it is virtually a waste of time. It works effectively enough but there isn't any real advantage as the computer does a better job changing gears than I ever managed… this is more toy than tool and the current Forza has this feature as an option… one that I would decline.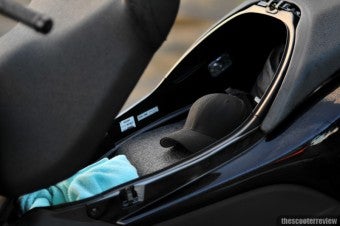 The Forza is a very useable machine with huge storage volume including an under seat compartment that will take a full face helmet and a small open face unit… or, if you prefer, an open face helmet and a week's worth of clothes… for a man. I found I used the front part of the compartment for wet weather gear leaving plenty of room in the back part for my full face (large) helmet and a few other bits and pieces. There are two compartments in the frontal area as well. One is a LARGE locking drawer that operates via a button below the ignition… um… knob… thing? Then there is a smaller unlocked compartment with a fold down door on the right. Considering it's weight the Forza is easy to move around although it does take a good heave to get it on and off the centre stand… thankfully Honda saw fit to include a very effective side stand.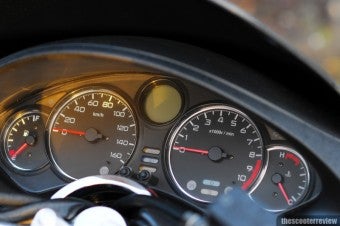 The instruments are varied and easy to read… they include a fuel gauge and trip meter along with a rev gauge and "selected gear" display for manual mode. Then up the top of the dash is a most amusing fuel consumption readout, which while I rode varied from about 13 km/L to 68 km/L… I wouldn't rely on it too much but an entertaining feature no less. The twin headlights are powerful and functional… they also make this bike look pretty cool… like a miniature spaceship… or something… well… something futuristic.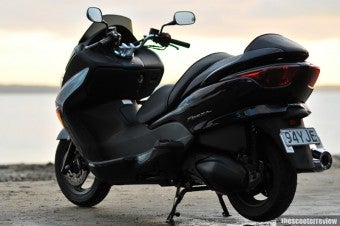 In short the Forza 250 is a conundrum, it isn't powerful enough for useful touring, but it is too big for tight traffic. It is exceptionally comfortable… as long as you aren't more than about 6 feet tall. It is big and heavy but corners like a lightweight… inspiring confidence during hard cornering and traffic work. All in all it has a certain charm… despite its foibles everyone who rode it wanted to keep it. Take one for a ride if you need a "B Road" commuter… or if you want to wear silver leathers, install pulsing lights in your helmet and cruise around town looking like an invader from another solar system. It's good… I'm just not sure why.
Price
AUD $8,990,

0-50km/h
4.8 seconds

0-100km/h
18.6 seconds
50-80km/h
7.9 seconds

Lap Time
38.0 seconds

Fuel Economy
4.2L/100kms - 56MPG
Speedo Accuracy

50kph displayed = 48kph actual - 100kph displayed = 98 actual

---

Pros:

Handles well, Low centre of gravity, Loads of storage, High tech

Cons:
Slow, low top speed, heavy,


---

Handling
Performance
Fuel Consumption
Value for money
Ease of use
Styling
Build quality

---

Overall Score

76%
Manufacturer Specifications
| | |
| --- | --- |
| Max power at shaft | 14.3 Kw (19 HP) @ 7500 rpm |
| Max torque | 21.1 Nm (15.5) @ 5,500 rpm |
| Engine Type | 90 Degree V-Twin, 4 stroke |
| Cylinder Capacity | 249cc |
| Seat height | 710mm |
| Dry weight | 173kg |
| Kerb weight | 187 kg |
| Fuel tank capacity | 12 litres |
| Starting | Electric |
| Transmission | "Twist and Go" Automatic Transmission (Vmatic) |
| Storage volume | 62litre underseat 5litre front drawer |
| Cooling | Water cooled |
| Bore X stroke | 72.7 x 60.0 mm |
| Compression ratio | 10.0:1 |
| Chassis | --- |
| Front suspension | 33mm telescopic fork, 100mm axle travel |
| Rear suspension | Dual damper unit swingarm, 95mm axle travel |
| Front brake | 240x4mm hydraulic disc with 3piston caliper |
| Rear brake | 240x5mm hydraulic disc with single piston caliper |
| Front wheel/tyre | 110/90 - 13" |
| Rear wheel/tyre | 130/70 - 12" |
| Length | 2165mm |
| Width | 760mm |
| Wheelbase | 1545mm |
| Max speed (km/hr) | --- |
| Type approval | --- |
| Consumption (ECE applicable text cycle) | --- |
| Consumption @km/h - km/l | --- |
| Audible Indicator | no |
| Full helmet storage | yes |
| Glove box | yes x2 |
| Fuel Guage | yes |
| Trip Meter | yes |
| Seat release (via remote control) | no |
| Seat release (remote, ignition/switch) | yes |
| Alarm | no (anti theft system inc) |
Comments
(2)


Subscribe to this comment's feed
Last Updated ( Friday, 08 August 2008 07:21 )