Page 2 of 4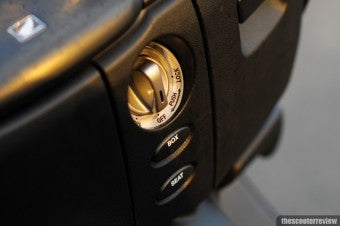 I am not sure where the Forza's charm comes from; it could be the low slung, laid back riding position that makes you feel like you are riding some sort of sled. It could be because it leans and changes position like a much smaller bike while still managing to be as comfortable as an armchair. I am not entirely sure what it is; the fact of the matter is, on paper, I should hate this machine. It is low powered and heavy. It is a big wide maxi scooter that you can't tour on due to its 110kph speed cut (which is potentially as fast as it can go with the factory gearing). So it is a touring scooter that you can only use as an urban commuter… This is where it gets interesting, you see it turns and manoeuvres like a much smaller machine. I suspect this is mainly an effect of the extremely low centre of gravity and relatively narrow tyres. The Forza snatched one of our quickest times to date around the TSR test track, this was unexpected but the scooter did inspire the confidence to ride it hard. This translates to the road as very nimble handling while carving through traffic or sneaking to the front of the cue at traffic lights.
Suspension and braking were both solid; with discs front and back stopping was always predictable and strong. The suspension was stiff enough for some spirited riding yet compliant enough to soak up road imperfections. The Forza will accommodate a pillion with ease. The seat is big and comfortable with a higher back support than either the Burgman or Silverwing. This back support doubled as a barrier, stopping the pillion sliding forward while braking. My pillion was most happy with her ride (she thought the Forza looked pretty damned cool too)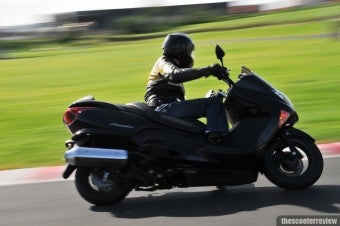 Now… the gadgets… there are many… from the decidedly useful "keyless ignition" which consists of a plastic key fob that activates the bike when the rider is nearby, to a less useful "tiptronic" type transmission. First up, the Keyless ignition; essentially the Forza is controlled by a big knob… not the guy riding… an actual knob… like you might see on a washing machine. When the key fob is within range of the bike you just push the knob and this activates the electronics… you know they are active because everything glows blue… then you can turn the knob to the On, Off, Lock etc positions. Once set to "on" you just retract the side stand, hit the starter button and you are away. When the fob is a few feet from the bike the Forza automatically immobilizes itself. In emergency situations there is a hidden slot where you can use a standard key for access.
Last Updated ( Friday, 08 August 2008 07:21 )