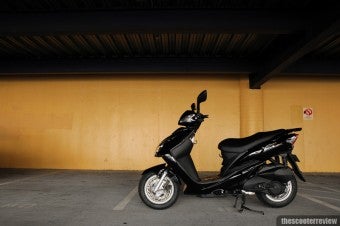 It seems the chaps at SYM have got wind of my habits. See normally I begin most SYM reviews with a bit of an easy laugh about the name of the scooter. It's not hard when a scooter's called an 'Uber boy' or a 'Super Duck'. Not any longer it seems. So now what do I do? I haven't got enough talent to come up with something amusing on my own, I need help. Then it dawned on me. It was a puzzle; SYM had simply hidden the real name in a complex code. I've always wanted to be a spy…or maybe a voyeur. Is that the same thing? Anyway I pulled out my copy of 'You wanted to be a spy but ended up a boring git'. A great title for a book I have to say.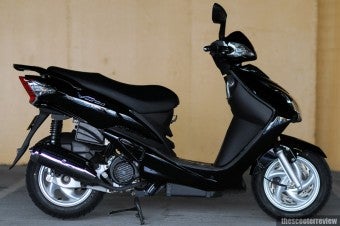 After many hours of detailed cypher work and numerous conversations with my contacts in the CIA, FBI, FCC, FAA, STD, ABS, and VTEC, I came up with an answer. It was hidden in the title. What SYM had done was brilliant; they'd used the initials V and S as what seemed like innocent letters. Not so. My exhausting analysis discovered their true meaning. A simple V…no, in SYM's world of layered espionage the V stands for Vanity and S stands for Sprocket. You see…it was there hidden all along. The SYM Vanity Sprocket. What does Vanity Sprocket mean you ask? How on earth would I know; I just work here.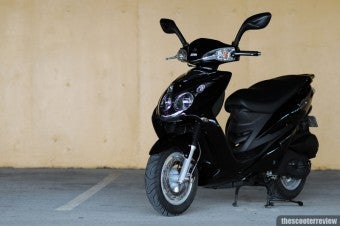 The VS is a direct assault on the Euro and Japanese scooter models. It was obviously a fairly transparent conversation when they began work on the VS. The engineers were simple told to build a 150cc scooter that functioned as well as or better than any of its competing models but cost less. So that's what they built. The SYM designers put their heads together and gave us what we've all been asking for. First, they mounted the battery extra low in the body, then they moved the fuel tank to the front of the bike, the result being; a class leading storage area. If you've ridden scooters for more than a week you'll know how vital storage is. In the VS you can store either two open faced helmets or one helmet and your riding gear. After riding the bike for the week I wondered how I'd put up with the useless storage on most scooters. The only negative is that the under seat area is not very deep so you can only 'just' squeeze in a small sized full-face helmet. Make the storage area just an inch deeper on the next VS and we'll be in nirvana.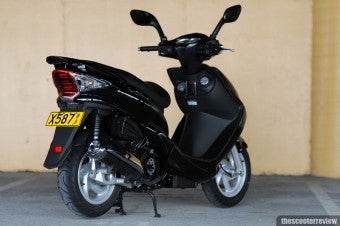 Riding wise the VS is pretty straight forward. The 150cc four stroke is slightly more perky than average and usefully more powerful than most 125cc bikes. This means the VS will function on the freeway provided you avoid the fast lane and stratospheric mountain passes. Suspension and ride quality is about average as well. The suspension and 12 inch wheels soak up most bumps and give reasonable comfort. The VS can be hustled along but prefers a medium pace as it's more cruiser than corner carver. The front disc is massive for the scooter world at 273mm but surprisingly required a fair amount of effort to bring the bike to a halt.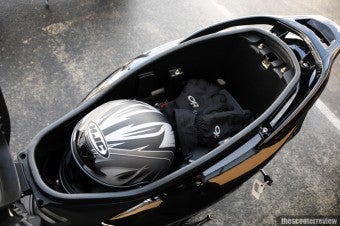 Apart from a couple of minor niggles the VS is near perfect in the ease of use department. As mentioned the bike won't really take most full face helmets which is a bit of a shame as you really need a full face helmet on a bike that can top 100kph (62MPH). Because SYM opted for the large under seat storage area it means there's no glove box up front which certainly isn't a deal breaker for me. This large, low seat means comfortable use for a wide range of riders including those 6 foot plus giants among us. The VS also returned simply superb fuel economy of 2.6L/100kms (89MPG) on our test. This is one of the best results we've had yet for a bike over 100cc and means a tank full of gas could theoretically take you 228kms (142 Miles). Not bad when you consider a tank full of gas is only 6liters (1.6 gallons). Finally, despite weighing in at 120kgs the VS is still quite easy to move around and put on the center stand.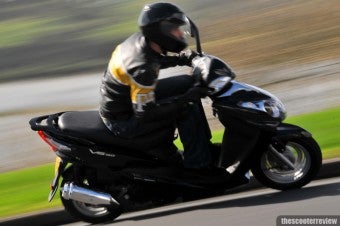 Summing up the SYM VS 150. SYM have really got a winner in the VS. Add this up. Attractive styling, class leading storage area, solid performance, incredible fuel economy and best of all…a superb price. In most markets the VS 150 is about the same money as the average 125cc bike. Basically you get a great looking bike that has more power, uses less fuel and costs less money than nearly all of its competitors. In the mid size scooter market the VS 150 is currently the best buy. Test ride it head to head with any similar priced 125cc scooter and there's not much chance you won't be riding home on the SYM.
Price
NZ $3,695 Euro €1,999
0-50km/h
5.2
0-100km/h
---
50-80km/h
8.6 Seconds
Lap Time
---
Fuel Economy
2.6L/100kms - 89MPG
Speedo Accuracy

50kph displayed = 50kph actual - 100kph displayed = 98 actual

---

Pros:

Fantastic value for money, best storage in class

Cons:
Brakes a bit spongy, won't fit most full face helmets

---

Handling
Performance
Fuel Consumption
Value for money
Ease of use
Styling
Build quality

---

Overall Score

86%
Manufacturer Specifications
| | |
| --- | --- |
| Max power at shaft | 9.7 Kw (13 HP) @ 8000 rpm |
| Max torque | --- |
| Engine Type | Single-cylinder 4-stroke |
| Cylinder Capacity | 149.5 cc |
| Seat height | 770mm |
| Dry weight | 133kg |
| Kerb weight | --- |
| Fuel tank capacity | 6 liters |
| Starting | Electric |
| Transmission | "Twist and Go" Automatic Transmission (CVT) |
| Storage volume | n/a |
| Cooling | Air cooled |
| Bore X stroke | 57.4 x 57.8 mm |
| Compression ratio | --- |
| Chassis | Steel Tube |
| Front suspension | Telescopic fork |
| Rear suspension | Rear swing arm |
| Front brake | 273mm Disc |
| Rear brake | Drum |
| Front wheel/tyre | 110/80-12 |
| Rear wheel/tyre | 130/70-12 |
| Length | 1910 mm |
| Width | 740 mm |
| Wheelbase | 1345 mm |
| Max speed (km/hr) | 109km/h |
| Type approval | Euro3 |
| Consumption (ECE applicable text cycle) | --- |
| Consumption @km/h - km/l | --- |
| Audible Indicator | no |
| Full helmet storage | yes (very small size only) |
| Glove box | no |
| Fuel Guage | yes |
| Trip Meter | no |
| Seat release (via remote control) | no |
| Seat release (remote, ignition/switch) | no (yes in some countries) |
| Alarm | no |
Comments
(7)


Subscribe to this comment's feed
Last Updated ( Saturday, 18 October 2008 06:50 )