Written by Enzo "Del Fuego" Stoini
Friday, 04 January 2008 19:50
Long Term Test: 2007 Suzuki Address 125
Page 1 of 5
Update now online 18 months in! (click the link to the right)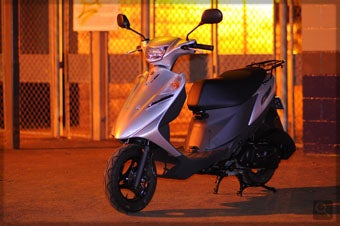 2nd Jan 2008

The New Year has dawned, to tell you the truth I am not really very sure what happened to 2007 it appears to have buzzed by at a serious velocity! Anyway with the closing of '07 and fuel price and traffic congestion at an all time high I decided it was time to get back onto a scooter, for fun and to generally ease commuting hassle and cost.
So the search was on for our first long-term test mule. Our first 'Long Termer' needed to be the epitome of a commuter machine; cheap to run, cheap to buy, light, nimble and with enough power to overtake and drag my rather larger than average self around the city and up the occasional hill at a reasonable pace.

I hunted and searched. I looked on the Internet and in Bike Shops. I talked to people, pigeons, statues and a Rubik's cube. I even talked to myself in my search for this first addition to our test fleet. Eventually I came to the decision that, frankly I was quite insane… A short time later I decided that the Suzuki Address 125 fit the criteria I had set for the first scooter in our long-term fleet.

Lucky for you, this website has solved many of the problems I had while searching for a scooter, so you should retain your tenuous grasp on reality somewhat longer than I. I am however glad to say that after a month long retreat with Tibetan monks in the Himalayas I am no longer certifiable and have ceased conversing with puzzle cubes.

This particular bike was part of a promotion that Suzuki was running and the price they offered would make it near impossible to turn down if you were a price conscious commuter. After going for a quick spin I was sold! This is a very light, very "chuckable" little machine with reasonable power and good handling.

After a slightly sputtering start that included some complications involving my (admittedly terrible) plan to try and organise something with Christmas looming, I finally picked up my "metallic sonic silver" steed on the 27th of December.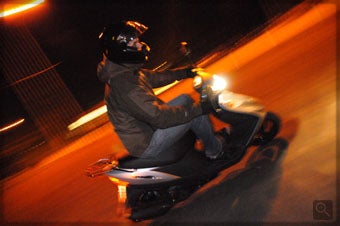 First Impressions:

My first opinion when riding the test bike was confirmed when I picked up my own, it is light, very light for a 125cc and after giving the tyres and brakes a bit of sedate riding to bed everything in I rediscovered the joy of being able to "throw the scooter around" this thing is almost like riding a little 50cc number but with the benefit of some power for overtaking and hill work. I had a hard time finding a reason not to go for a ride; this Suzuki really is good fun.

I discovered it has some very useful integrated features… an alarm that works very well, passenger foot pegs, under seat storage that will take my full face helmet and some other good bits and pieces including an under seat 12v charger plug (a.k.a. cigarette lighter plug) for "Charging your Phone or MP3 player" according to the brochure… not a feature I am likely to use but an inspired addition for some no doubt.

It does have a few annoying traits also… The indicators work well and have a loud "clicker" which you can hear most of the time, unfortunately it would appear Suzuki think I don't need a dash light to show if the indicators are on or not… this isn't a huge issue but in traffic you often can't hear the clicker and it would be nice to have a light. Also I would like a trip meter of some sort, I know that they are uncommon on bikes equipped with a fuel gauge (as this one is) but call me old fashioned I just like to have one. While I'm on the dash lights, there is no warning light that shows high beam is on or off, again not a huge problem but just a detail I would like to have available to me, I prefer not to blind the drivers of oncoming cars… cars are large, heavy and made of steel… I don't really want to be hit by one who's driver can no longer see the road because I accidentally had my headlights at full beam. As much as I like the little Suzuki it would NOT make a good hood ornament, and for that matter neither would I!

Just before I sign off on my initial report I did have a chance to do a quick fuel mileage test, with my somewhat gargantuan frame onboard and some fairly brisk riding, the little Suzuki UZ125 returned around 32 kilometres per litre (approximately 76mpg), which I thought was a very admirable consumption!
 
 
Last Updated ( Wednesday, 04 November 2009 23:29 )