Written by Enzo "Del Fuego" Stoini
Friday, 04 January 2008 19:50
Long Term Test: 2007 Suzuki Address 125 - 18months in
Page 5 of 5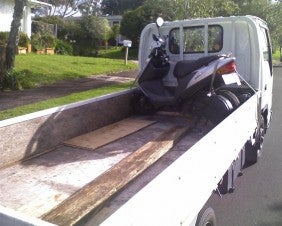 Well I have had this bad boy for a long time now... 18months in fact and clocked up 14500kms and it has finally happened... catastrophic failure... let me paint you a picture it is a clear night, I am sitting at my local caffeine dealers premises writing words... just for a change. I see a flash, hear a rumble... then the rain comes... violent, sheeting rain... oh crap I think to myself, thunder storm... this is going to be a fun ride home! So I finish with the words, the cafe kicks me out (they want to go home too) It doesn't look like the rain is stopping any time soon. I kit up in my rain attire, mount my trusty steed and away... turn a corner and nearly crash. That's odd, the handling has gone to the dogs... the road shouldn't be that slippery... and why on earth is it so slow all of a sudden? Light bulb... Damn! Sure enough rear tyre is flat as a pancake. Oh well the rear is due for replacement anyway, I will try and nurse it home... I make it half way before the tyre comes off the bead and the rim is just spinning inside the tyre. It's walking time!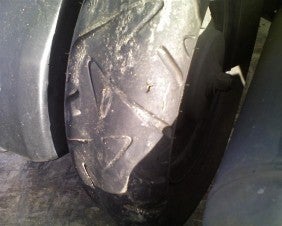 I get home eventually and do all the normal pissing about that normally comes with such situations... Borrow a truck (note to self... accountant et all; TSR needs a truck of some sort!) load bike, take to tyre shop, get new tyres (Big ups to Cycletreads in Auckland by the way, excellent service and hell of a good deal on a matching pair of racey Michelins... review shortly) load bike back on truck etc, etc.
So yeah 14500kms, bike still runs perfect, only major problem is a puncture on a stormy night... thanks Mr Suzuki... I think I love you.
On the plus side I now have two brand new Michelins to abuse, will advise how they get along. The Conti Twist on the rear was absolutely awesome although if you want something hard wearing that is probably not the way to go... it only lasted about 3000kms although it did get a hard time and I was absolutely confident in its ability to keep me upright at all times!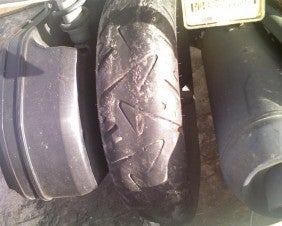 Addendum to update: Just received a letter from Suzuki with a few minor things that they are fixing as a "recall" type fix... something to do with the stand getting in the way of the kickstart, which seems pointless as the electric start seems pretty damn good. Along with something to do with the fuel cap... although this seems odd as it got replaced in another recall thing they did not long ago... will let you know if there is any news on that front.


 
 
Comments
(1)


Subscribe to this comment's feed
Last Updated ( Wednesday, 04 November 2009 23:29 )