Written by Enzo "Del Fuego" Stoini
Friday, 04 January 2008 19:50
Long Term Test: 2007 Suzuki Address 125 - Month 3... and a bit
Page 3 of 5
Long-term report, volume 3
01 April 2008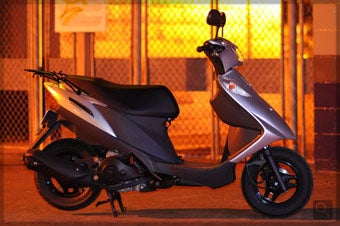 I am a little bit worried... yesterday the team over here at TSR HQ had a bit of a group meeting. We discussed the normal stuff, direction, the future, review criteria etc, etc, etc. Then the long term fleet discussion came up and "Hollywood" gave me grief because I hadn't updated the story on my Suzuki. I called him something impolite that may be physically impossible, and told him it wasn't due to go online for another couple of weeks!
Apparently somewhere along the lines I lost a month of my life... it turns out that the update should have been on line around about the 12th of March... Not April. So I must appologize for my lapse of concentration. I am going to have to blame the little Address 125 though, it's speed is such that it tore shreds in the fabric of space time and somehow launched me into the future by a few weeks. As you can imagine, the fact that I managed to completely misplace a vast chunk of my life means that the promised updates i.e. fixing the brake lever... which by the way works just fine as it is... and sorting an aftermarket exhaust have not really happened.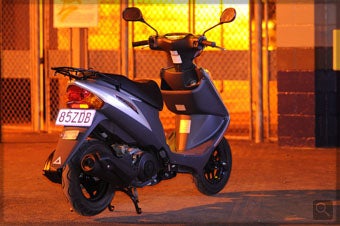 The main problem is that the small silver machine really does do a pretty good job at everthing it does. I would hate to have it off the road all the time as is normally the case when you start modifying machinery. I am contemplating the idea of procuring something else to play with/modify/destroy. Any suggestions gladly accepted. It would need to be very cheap and of a reasonable engine size (at least above 100cc) and I need to be able to access a few perfomance parts for it. That means that I can keep the Suzuki in one peice and use it for the job it does so well, a job that in a more corporate environment would be along the lines of "Vice president in charge of traffic menacing and human transportation." It would also allow me to have a toy sitting in the garage, something to entertain me over the long, cold winter.
Costs this month (and an extra few weeks) equate to pretty much just gas... I rode... I put in gas... I rode some more. Repeat. So the with another 1400kms on the clock and the price of petrol still climbing the total bill is around about $80.00.
 
Last Updated ( Wednesday, 04 November 2009 23:29 )