Written by Enzo "Del Fuego" Stoini
Friday, 04 January 2008 19:50
Long Term Test: 2007 Suzuki Address 125
Update now online 18 months in! (click the link to the right)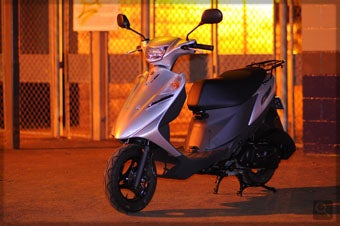 2nd Jan 2008

The New Year has dawned, to tell you the truth I am not really very sure what happened to 2007 it appears to have buzzed by at a serious velocity! Anyway with the closing of '07 and fuel price and traffic congestion at an all time high I decided it was time to get back onto a scooter, for fun and to generally ease commuting hassle and cost.
So the search was on for our first long-term test mule. Our first 'Long Termer' needed to be the epitome of a commuter machine; cheap to run, cheap to buy, light, nimble and with enough power to overtake and drag my rather larger than average self around the city and up the occasional hill at a reasonable pace.

I hunted and searched. I looked on the Internet and in Bike Shops. I talked to people, pigeons, statues and a Rubik's cube. I even talked to myself in my search for this first addition to our test fleet. Eventually I came to the decision that, frankly I was quite insane… A short time later I decided that the Suzuki Address 125 fit the criteria I had set for the first scooter in our long-term fleet.

Lucky for you, this website has solved many of the problems I had while searching for a scooter, so you should retain your tenuous grasp on reality somewhat longer than I. I am however glad to say that after a month long retreat with Tibetan monks in the Himalayas I am no longer certifiable and have ceased conversing with puzzle cubes.

This particular bike was part of a promotion that Suzuki was running and the price they offered would make it near impossible to turn down if you were a price conscious commuter. After going for a quick spin I was sold! This is a very light, very "chuckable" little machine with reasonable power and good handling.

After a slightly sputtering start that included some complications involving my (admittedly terrible) plan to try and organise something with Christmas looming, I finally picked up my "metallic sonic silver" steed on the 27th of December.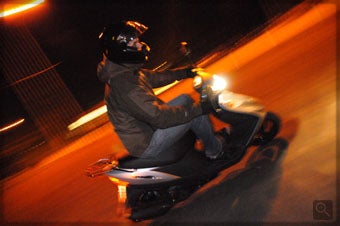 First Impressions:

My first opinion when riding the test bike was confirmed when I picked up my own, it is light, very light for a 125cc and after giving the tyres and brakes a bit of sedate riding to bed everything in I rediscovered the joy of being able to "throw the scooter around" this thing is almost like riding a little 50cc number but with the benefit of some power for overtaking and hill work. I had a hard time finding a reason not to go for a ride; this Suzuki really is good fun.

I discovered it has some very useful integrated features… an alarm that works very well, passenger foot pegs, under seat storage that will take my full face helmet and some other good bits and pieces including an under seat 12v charger plug (a.k.a. cigarette lighter plug) for "Charging your Phone or MP3 player" according to the brochure… not a feature I am likely to use but an inspired addition for some no doubt.

It does have a few annoying traits also… The indicators work well and have a loud "clicker" which you can hear most of the time, unfortunately it would appear Suzuki think I don't need a dash light to show if the indicators are on or not… this isn't a huge issue but in traffic you often can't hear the clicker and it would be nice to have a light. Also I would like a trip meter of some sort, I know that they are uncommon on bikes equipped with a fuel gauge (as this one is) but call me old fashioned I just like to have one. While I'm on the dash lights, there is no warning light that shows high beam is on or off, again not a huge problem but just a detail I would like to have available to me, I prefer not to blind the drivers of oncoming cars… cars are large, heavy and made of steel… I don't really want to be hit by one who's driver can no longer see the road because I accidentally had my headlights at full beam. As much as I like the little Suzuki it would NOT make a good hood ornament, and for that matter neither would I!

Just before I sign off on my initial report I did have a chance to do a quick fuel mileage test, with my somewhat gargantuan frame onboard and some fairly brisk riding, the little Suzuki UZ125 returned around 32 kilometres per litre (approximately 76mpg), which I thought was a very admirable consumption!
 
 
Long-term report, volume 2
12 Feb 2008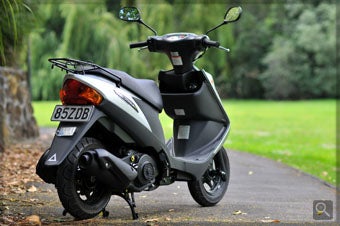 It is late, a spectacular clear summer night; I ride down to my local beach to enjoy the peace, the quiet and the view… I park the Suzuki on it's side stand, on a concrete boat ramp. As I walk away from the bike and begin to relax after a hard day staring at a computer screen I hear the noise no new bike owner wants to hear… a scrape, then a second of silence, then a crash. Like a severed head my helmet rolls past me in the sand. It turns out I am a moron, as always in these sorts of incidents user error has prevailed… yes I parked the scooter on a downhill slope and apparently didn't fully engage the stand resulting in my wee bike taking a tumble down the side of the boat ramp. The Suzuki is somewhat more robust than I would have expected, it survived with little more damage than a few scratches and half the left hand brake lever lost. Moral of the story and a lesson I should have learnt many years ago… Be careful EVERY TIME you park your machine.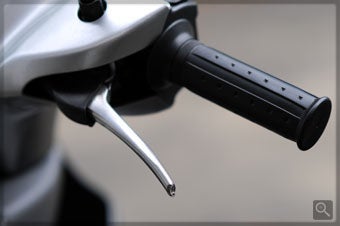 Anyway I have had the Address 125 for just over a month now and it has carried me for some 1500 kilometres in that time. The little Suzuki has proved it's worth over and over again. It continues to be an absolute miser on fuel so far costing a grand total of $79.00. It has also continued to be an absolute blast to ride. Unfortunately I had to book the bike in for it's first (1000km) service… it was with some trepidation I dropped it in to my local Suzuki dealer. The first service entails the usual oils, filters and adjustments but it is also recommended that valve clearances and some other mechanical checks are made at the same time… at the usual exorbitant per hour rate that mechanics charge, I was dreading picking up the bill. So I drop the bike in and take the shops battle scarred (read held together with duct tape) Epicuro (125T) courtesy scooter and meandered off to do some work. Later that afternoon I get a call that my bike is ready, I look forward to getting back on the ultimate traffic weapon and rush back to the store to give back their dog of a loaner bike (no talking down the Epicuro… this one was just decidedly unloved) So, I ask… Any problems? And, of course, how much? Well it turns out that these guys are good… the service came to a grand total of $166.10 that is NZ money so equivalent to about $US132.00 or £67.00 or in other words not nearly as scary as I had thought.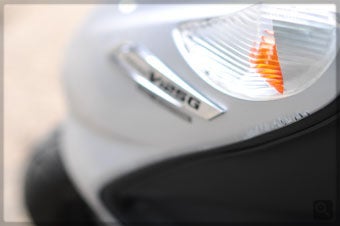 Next Update I will let you know how much it cost to fix my broken brake lever and I may start thinking about making a few minor modifications… we shall see if I can get my local agent to look the other way and keep my warranty alive as it is a brilliant, relatively comprehensive 3 year cover.
Long-term report, volume 3
01 April 2008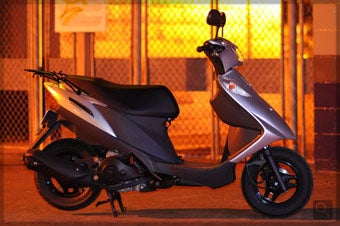 I am a little bit worried... yesterday the team over here at TSR HQ had a bit of a group meeting. We discussed the normal stuff, direction, the future, review criteria etc, etc, etc. Then the long term fleet discussion came up and "Hollywood" gave me grief because I hadn't updated the story on my Suzuki. I called him something impolite that may be physically impossible, and told him it wasn't due to go online for another couple of weeks!
Apparently somewhere along the lines I lost a month of my life... it turns out that the update should have been on line around about the 12th of March... Not April. So I must appologize for my lapse of concentration. I am going to have to blame the little Address 125 though, it's speed is such that it tore shreds in the fabric of space time and somehow launched me into the future by a few weeks. As you can imagine, the fact that I managed to completely misplace a vast chunk of my life means that the promised updates i.e. fixing the brake lever... which by the way works just fine as it is... and sorting an aftermarket exhaust have not really happened.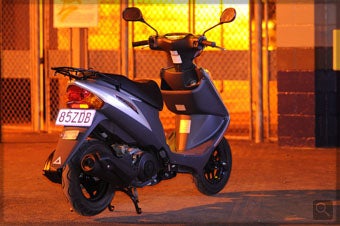 The main problem is that the small silver machine really does do a pretty good job at everthing it does. I would hate to have it off the road all the time as is normally the case when you start modifying machinery. I am contemplating the idea of procuring something else to play with/modify/destroy. Any suggestions gladly accepted. It would need to be very cheap and of a reasonable engine size (at least above 100cc) and I need to be able to access a few perfomance parts for it. That means that I can keep the Suzuki in one peice and use it for the job it does so well, a job that in a more corporate environment would be along the lines of "Vice president in charge of traffic menacing and human transportation." It would also allow me to have a toy sitting in the garage, something to entertain me over the long, cold winter.
Costs this month (and an extra few weeks) equate to pretty much just gas... I rode... I put in gas... I rode some more. Repeat. So the with another 1400kms on the clock and the price of petrol still climbing the total bill is around about $80.00.
 
Long-term report, volume 3
01 July 2008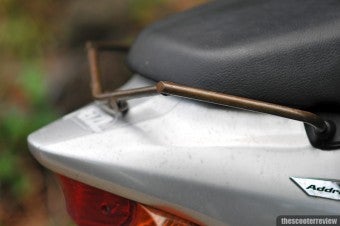 Yet again I must appologise for my slackness in the updating of this long term report. The last few months have absolutely flown by, with reviews, Super Battles, website upgrades and the like. Unfortunately I have been lax in my other duties.
So... work on the mighty address has been very basic, with some minor cosmetic surgery to tidy up the back of the machine. I decided that the back of the Suzuki was looking a bit lardy and I absolutely hated the long obtrusive rear mudguard. Some minor manipulation with a hacksaw and file and the rear mudguard became a short licence plate hanger.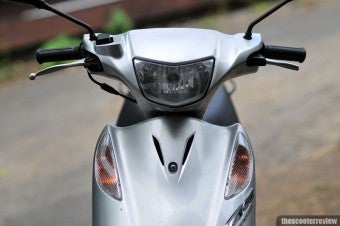 The existing rear carrier was never going to be of any use to me... the large underseat storage area and stepthru giving plenty of carrying capacity for my uses... I decided to tidy that up as well. The carrier doubles as the pillion grab handle so with some more liberal use of a metal cutting device I trimmed it down to include just the pilion handles. I then stripped the black coat of paint off what remained of the carrier. Stripping the paint revealed a very attractive almost bronze coloured steel. I clearcoated this to provide some corrosion resistance.
Overall the total transformation is decidedly pleasing... at least to my eyes. The only real downside is the rear tire does throw a bit of spray up the back of your jacket and onto the back of the bike in rainy and generally inclement weather. This weather is showing itself more frequently now that we are smack in the middle of winter.
Fuel consumption is still good and with the fuel price now over $2.20 per litre the tank costs just over $10 for the average fill. The bike has now done well over 5000km and is going strong. The only problem appears to be a slightly stretched drive belt but as this is self diagnosed I will get Suzuki to check it at the next service.. due at 7000 kms. Other than that I still have no complaints
 
Long-term report, volume 4
20 March 2009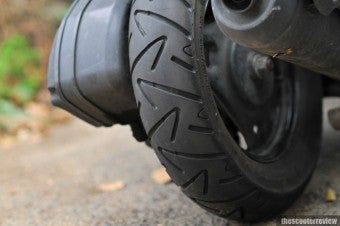 Well, 10,000 kms down on the mighty Suzuki UZ125 and the factory fitted Dunlop rear tyre finally gave up the ghost. This gave us the perfect oportunity to test out something new and exciting... well some new rubber.
I never had any real problem with the original tyres, however when Derbi (our local Conti importer) sent out a Twist for the rear I was VERY impressed. You see it is easy to be happy when there is no comparison available. So I had the Continental fitted up and gave it a few hours of gentle riding to clean off any untoward slippery stuff (there wasn't any, the tyre was excellent from the minute it went on)Â and get the tyre worn in a bit.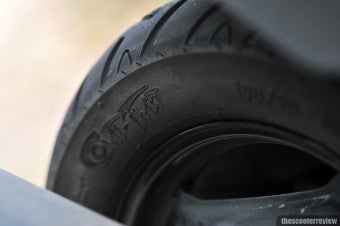 Long story short I was instantly comfortable with the level of grip, to the point where I was using the entire width of the tyre almost instantly. Lean angle is progressive and confidence inspiring and the level of grip is incredibly good, at no point did I even worry about the possiblility of the rear letting go.
The wet weather grip is also admirable, I don't like to push the bike on the road in the wet but in normal day to day riding with a slippery road the tyre felt plenty stable which is a fantastic with the Auckland winter advancing at high speed.
So if you are needing a serious road tyre for your scooter, just go buy a twist, they really are that good!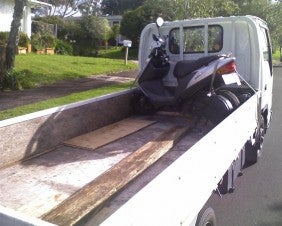 Well I have had this bad boy for a long time now... 18months in fact and clocked up 14500kms and it has finally happened... catastrophic failure... let me paint you a picture it is a clear night, I am sitting at my local caffeine dealers premises writing words... just for a change. I see a flash, hear a rumble... then the rain comes... violent, sheeting rain... oh crap I think to myself, thunder storm... this is going to be a fun ride home! So I finish with the words, the cafe kicks me out (they want to go home too) It doesn't look like the rain is stopping any time soon. I kit up in my rain attire, mount my trusty steed and away... turn a corner and nearly crash. That's odd, the handling has gone to the dogs... the road shouldn't be that slippery... and why on earth is it so slow all of a sudden? Light bulb... Damn! Sure enough rear tyre is flat as a pancake. Oh well the rear is due for replacement anyway, I will try and nurse it home... I make it half way before the tyre comes off the bead and the rim is just spinning inside the tyre. It's walking time!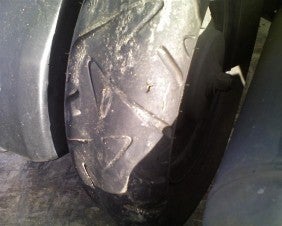 I get home eventually and do all the normal pissing about that normally comes with such situations... Borrow a truck (note to self... accountant et all; TSR needs a truck of some sort!) load bike, take to tyre shop, get new tyres (Big ups to Cycletreads in Auckland by the way, excellent service and hell of a good deal on a matching pair of racey Michelins... review shortly) load bike back on truck etc, etc.
So yeah 14500kms, bike still runs perfect, only major problem is a puncture on a stormy night... thanks Mr Suzuki... I think I love you.
On the plus side I now have two brand new Michelins to abuse, will advise how they get along. The Conti Twist on the rear was absolutely awesome although if you want something hard wearing that is probably not the way to go... it only lasted about 3000kms although it did get a hard time and I was absolutely confident in its ability to keep me upright at all times!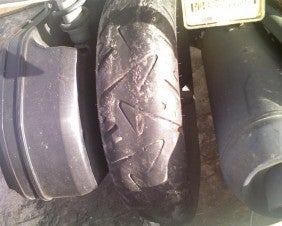 Addendum to update: Just received a letter from Suzuki with a few minor things that they are fixing as a "recall" type fix... something to do with the stand getting in the way of the kickstart, which seems pointless as the electric start seems pretty damn good. Along with something to do with the fuel cap... although this seems odd as it got replaced in another recall thing they did not long ago... will let you know if there is any news on that front.


 
 
Comments
(1)


Subscribe to this comment's feed
Last Updated ( Wednesday, 04 November 2009 23:29 )