Written by Enzo "Del Fuego" Stoini
Friday, 04 January 2008 19:50
Long Term Test: 2007 Suzuki Address 125 - Month 2
Page 2 of 5
Long-term report, volume 2
12 Feb 2008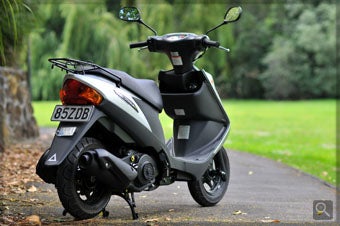 It is late, a spectacular clear summer night; I ride down to my local beach to enjoy the peace, the quiet and the view… I park the Suzuki on it's side stand, on a concrete boat ramp. As I walk away from the bike and begin to relax after a hard day staring at a computer screen I hear the noise no new bike owner wants to hear… a scrape, then a second of silence, then a crash. Like a severed head my helmet rolls past me in the sand. It turns out I am a moron, as always in these sorts of incidents user error has prevailed… yes I parked the scooter on a downhill slope and apparently didn't fully engage the stand resulting in my wee bike taking a tumble down the side of the boat ramp. The Suzuki is somewhat more robust than I would have expected, it survived with little more damage than a few scratches and half the left hand brake lever lost. Moral of the story and a lesson I should have learnt many years ago… Be careful EVERY TIME you park your machine.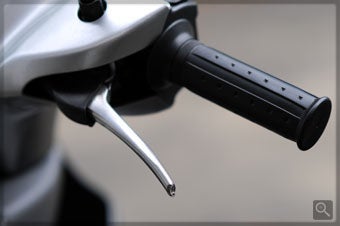 Anyway I have had the Address 125 for just over a month now and it has carried me for some 1500 kilometres in that time. The little Suzuki has proved it's worth over and over again. It continues to be an absolute miser on fuel so far costing a grand total of $79.00. It has also continued to be an absolute blast to ride. Unfortunately I had to book the bike in for it's first (1000km) service… it was with some trepidation I dropped it in to my local Suzuki dealer. The first service entails the usual oils, filters and adjustments but it is also recommended that valve clearances and some other mechanical checks are made at the same time… at the usual exorbitant per hour rate that mechanics charge, I was dreading picking up the bill. So I drop the bike in and take the shops battle scarred (read held together with duct tape) Epicuro (125T) courtesy scooter and meandered off to do some work. Later that afternoon I get a call that my bike is ready, I look forward to getting back on the ultimate traffic weapon and rush back to the store to give back their dog of a loaner bike (no talking down the Epicuro… this one was just decidedly unloved) So, I ask… Any problems? And, of course, how much? Well it turns out that these guys are good… the service came to a grand total of $166.10 that is NZ money so equivalent to about $US132.00 or £67.00 or in other words not nearly as scary as I had thought.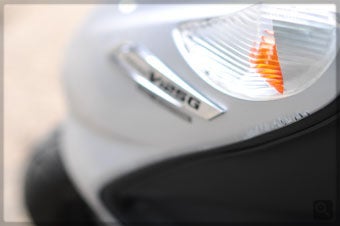 Next Update I will let you know how much it cost to fix my broken brake lever and I may start thinking about making a few minor modifications… we shall see if I can get my local agent to look the other way and keep my warranty alive as it is a brilliant, relatively comprehensive 3 year cover.
Last Updated ( Wednesday, 04 November 2009 23:29 )