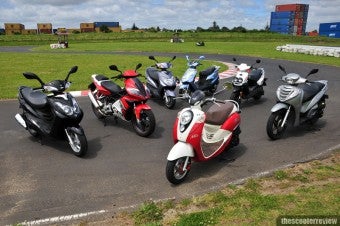 This test is a little bit different to our previous comparison… the 50cc Super Battle. Different in a few ways but the main one being choice, you see there are a lot of scooters available in the size and price range that we decided to include. For the record: 100cc to 200cc, small to medium bodied with a retail price in the mid to low range.

Obviously it would be impossible to test all of these bikes to pick a winner, so what did we do? We picked ten that we felt had a shot at the top spot, unfortunately a few were unavailable so what we have in the test are seven of the best mid range, mid size scooters available today. Now I must make something blatantly obvious, all seven bikes are at the top of their game, so don't dismiss a bike just because it came 7th in the test. Remember it is not the loser of the test… it is seventh of probably 50 bikes in this market segment. I will say it again… read carefully! All of these bikes are a great buy because we didn't bother including the bikes that we felt didn't have a chance!


Now I mentioned there were a couple of omissions, the obvious ones being Vespa's S125 and Honda's SH150, along with the Kymco/Bug Agility that would have been included. Unfortunately the Vespa demo had just been sold so wasn't available, however, as good a machine it is the ticket price really would have put it out of the range for the test. A similar situation exists for the SH150, no question this is a good bike but it is unavailable for test here at the moment and again realistically out of the price range. A ghost test put the Vespa mid pack and the Honda somewhere within the top 3. There was no stock of the Agility so that was excluded, unfortunately we have no experience at all with this bike so couldn't even guess its rough placing. Now I must extend a huge thank you to Alistair and Coleman's Suzuki in Auckland… They supplied an AN125 for the test as our local Distributor still refuses to supply any test bikes; if you need any Suzuki product and you are in Auckland go see the guys at Coleman's they will sort you out.

As per the last Super Battle, all tests were done by multiple people, with the listed times coming from one rider, riding 80% times and a limited number of laps. This track time is more an "ease of riding" test than a "maximum attack" time… we hate putting scooters into the Armco. More laps were completed by multiple judges to evaluate the "performance and handling" results. A little bit different this time we have added a few individual awards; you will find these below the ranking title.

So, let's get started…



Position 7: Italjet Torpedo 150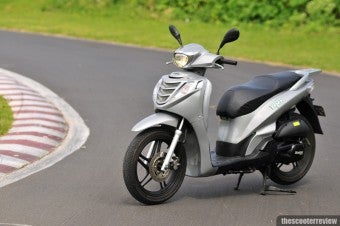 63% Winner: "If they be Giants" award
With European styling, big wheels and a tall seat the Depth Charge… sorry Torpedo is not the bike for everyone. However if you are a little taller than average, or want a more upright seating position along with solid performance whether one or two up then the Torpedo may well be the bike for you. I am tall and absolutely loved the riding position, it was nice and upright, creating a very comfortable riding position conducive to a straight back and doing away with the "hunched shoulder bent spine" position most scooters provoke. Conversely the tall seat position and slightly heavier feeling machine make it very awkward for a smaller rider.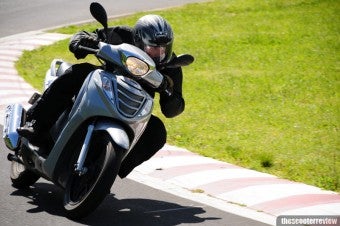 On the Track: 40.2 Seconds
This was a tough test for the Torpedo because as a track weapon… the Torpedo makes a really good urban cruiser. The big wheels and stiff suspension did assist with its on track performance. However the overall set up made for slow direction changes and the brakes, although reasonably powerful were very hard to manipulate and had very little lever travel meaning that hard braking was always a somewhat hair raising procedure.
On the Road
On the road the Torpedo is very good, the big 16" wheels soak up bumps in the road well and create a stable platform that always feels solid. The engine makes enough power to be tractable in virtually all urban situations. It will also manage the odd trip on the highway without any real issues.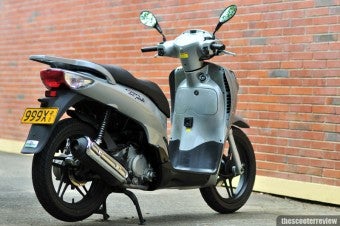 Living With It
This is where the Torpedo was hit fairly hard; it isn't that it is bad… more that many of the elements are just not quite right. There is an under-seat storage compartment, it just isn't really big enough, no way you will get a full face helmet in there in fact there is barely enough room for a bulky jacket, and closing the seat is a somewhat tricky proposition at the best of times. There is a front glove box but it is too small to really fit anything in. The height and weight combination makes it a bit awkward to put on the centre stand and manoeuvring is a bit harder than most others in the test.
 
Position 6: Suzuki AN125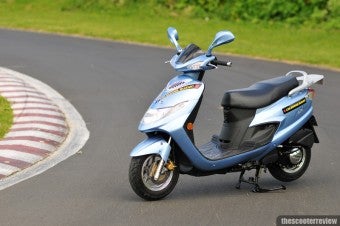 68% Winner: "Scent of an oily rag" award
The little Suzuki was by far the winner in the fuel economy stakes, returning just under 100mpg. This is an even more dramatic figure when you consider that the AN125 was a long way from being slow. Normally bikes that deliver exceptional fuel economy are glacially slow, not so with this small-bodied Suzuki, it produced 0-50kph times well in the mid pack… this is astounding and extremely positive for an urban machine.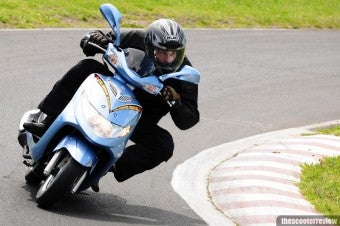 On the Track: 39.8 Seconds
The track was not the AN's forte, the light, small bodied machine rolls on small 10" wheels which normally equates to quick direction changes and late braking on the track. Unfortunately it was neither as light, nor as "chuckable" as either the Mio or the Beewee and made similar power. There was also a somewhat uneven quality to the lean angle; it was less progressive than I would have hoped. The brakes however are fantastic… not the strongest in the group by a long shot, however by far the best for lever feedback and control.
On the Road
Some of the AN's foibles on the track were irrelevant or even positive on the road, the small wheels did as expected provide a bit of a bumpy ride quality but it was much smoother than I would have expected. The power and lean angle where both more than acceptable and provide fast, easy manoeuvring in tight traffic. The brakes were great on the road with the fantastic lever feedback providing progressive, predictable stopping even in less than perfect road conditions. Then of course there is the fuel… the Suzuki doesn't really use any… for everyday commuting this would be a real godsend, 98mpg sounds like a fairly ok number until you work out exactly how far that is… it is far… "a long time ago in a galaxy far, far away" far! When doing the fuel economy test I thought the fuel gauge was broken… the thing just wouldn't quit. Simply fantastic and if you are looking for an economical commuting machine you couldn't look far past the AN125 when the low purchase price and excellent fuel economy are combined.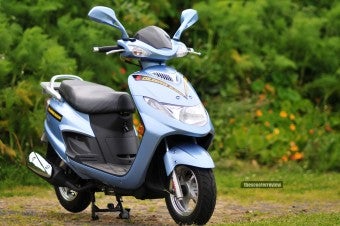 Living With It
Living with the AN125 is ok, not incredible… just ok. Actually, let me qualify that, using the Suzuki is just fine, it is light and low and easy to move around. The side and centre stands are both effective and easy to use. The switchgear and instruments all function well. So essentially it is perfect… it even has a remote release for the under seat compartment… so what is my problem then… well it is the under seat compartment… it is too small. I know this is a minor complaint. It will take an open face helmet and if it were 2 or 3 inches deeper it would take a full face. This is one of those annoying problems; I can't help but think if they got everything else so right how could they possibly have missed this glaring issue. Besides that minor point, it really is pretty damn solid in the ease of use stakes. Oh and don't forget you don't use any gas!
Position 5: Yamaha Cygnus 125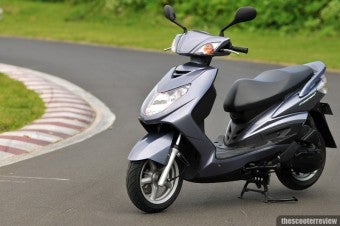 69% Winner: "Tight, Shiny Nuts" award.
Nuts? Yes, along with panel gaps and general lack of flaws in the assembly of this machine the Cygnus procures the "Build Quality" award. The Yamaha Cygnus 125 is the bike to buy if the most important thing in your life (further to convenience obviously) is that people's opinion of you isn't diminished by your choice of transport. The Cygnus looks fantastic, it's modern, classic design along with upright riding position and sedate color options mean riding it in a suit and tie isn't an obscene or incongruous image. The Cygnus is one of the more expensive machines in this test and that provides you with a reasonably powerful engine, super comfortable saddle, large under seat compartment and comfortable ride along with our pick for the best built/assembled bike on this test.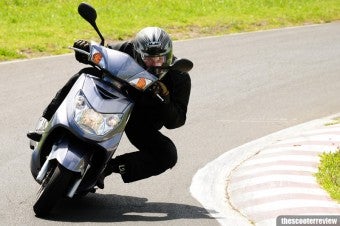 On the Track: 39.2 Seconds
39.2 seconds put the Cygnus near the top of the pack on the track where the smooth surface meant the front shock didn't play up. The smooth power delivery and solid brakes helped it around the short course well and the cushy ride didn't hamper it much at all. Overall a very easy bike to ride smooth and fast. It is not the most nimble of the group but that is unsurprising considering its design brief of comfort, and then some.
On the Road
The road really was the Cygnus's niche; the slightly larger size, greater weight and 12" wheels produce a very stable ride on smooth roads. Although performance wasn't blistering the Yamaha makes plenty of power for passing slower traffic and the occasional Highway commute. Brakes were also pretty good, I would have expected twin discs for the price but they work well enough. The suspension is fantastic and compliant… until you get to a bumpy stretch of road. Then the front becomes a very shaky, bouncy thing. Riding without both hands on the bars over uneven surfaces is not advised, this trait is a shame as it left quite an impression.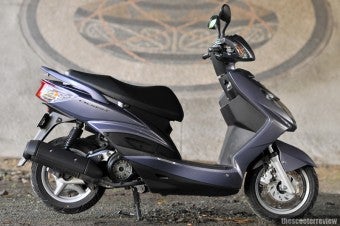 Living With It
The Cygnus is a bike for an adult; it is a bit bigger, a bit taller and a bit more awkward to move around off power than most of this group. Only marginally more awkward though, the stands both work easily and you never really feel like you are going to drop it when moving it about. Storage is good with a double sized, under seat storage area, which will take a small full-face helmet. Along with good instrument panel and an open front glove box it is pretty damn good where ease of use is concerned. Just one word of warning, if you are over about 6"2' the seat will probably be pretty uncomfortable, try before you buy.
Position 4: SYM Mio 100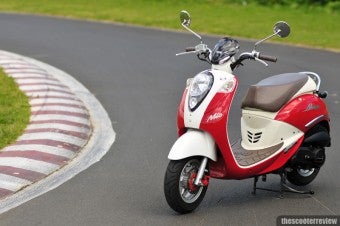 75% Winner: The "Ooooohhhh it's so CUTE" award
Now I don't want to be rude and sexist here… but I am going to be. The Mio's modern retro styling along with its lightweight and low seat make this THE number one choice of this test for all the ladieeeezzzzz out there. Stop yelling at me! I spoke to a couple of people who sell them and they are by a fair margin the first scooter that attracts most women in the store. And for once you can judge a book by it's cover, the Mio is an absolute gem of a machine with a peppy 100cc engine, good storage, great manoeuvrability and fantastic styling… did I mention the multicolour selectable dash lighting? Are you a man? Fine just get one in black… I guarantee you will have an absolute ball with it!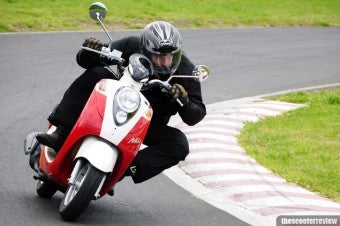 On the Track: 39.4 Seconds
The Mio is an absolute bucket full of fun on the track; this extremely lightweight and manoeuvrable little machine is in its element on the tight test track. The small wheels and light weight make direction changes lightning fast. It suffered a little due to a slightly lower horsepower count and slightly weak brakes but all in all on the track it was quick and extremely good fun.
On the Road
The features that make the Mio great fun on the track translate well to road use with its small size and light weight meaning fun and easy traffic work. The engine is perky enough for quick escapes from traffic lights and will easily keep up with the flow of traffic. The power does let it down a bit on bigger hills or when passing someone who is moving at more than a dawdle. Weight has a noticeable difference on the Mio so if you are large lad or lady you may want to look to something a bit more powerful.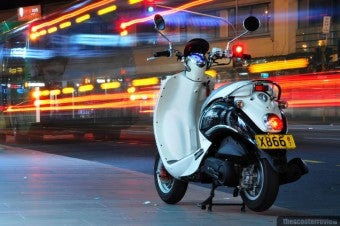 Living With It
Again, proving it's all around value the Mio 100 is pretty easy to live with. Obviously light, small and easy to move around and put on the stand. The amazing thing about the little SYM is the under seat compartment which will easily swallow a full face helmet, this is pretty astounding considering its overall tiny dimensions. Fit and finish is all pretty sturdy. Again, not designed for giants but more spacious than its size would suggest.
 
Position 3: Yamaha Beewee 100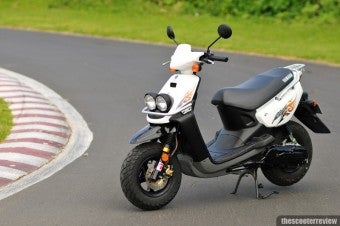 77% Winner: "Improbably Cool" award
Yamaha… Beewee… what were they thinking? Ok beside a singularly ridiculous name the little 100cc two-stroke machine is a bit odd looking. Like some cross between a shopping trolley and an ATV. As harsh as this sounds it gains the Improbably Cool award because for as much as the styling, name and design shouldn't really work… it somehow manages to come together as a dynamite little package that you will no doubt thoroughly "dig".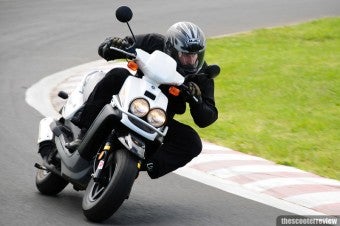 On the Track: 39.2 Seconds
Balloon tyres with mud grip tread, combined with nudge bars are not something normally associated with track performance. However the Beewee manages, yet again, to defy the odds. Performance from the 100cc two-stroke engine was brisk and sounded fantastic. Cornering and braking were both very good especially considering the unusual choice of rubber. Small wheels and light weight mean a quick mover that felt, equal to, or even more entertaining in the corners than the Mio… no mean feat. Suspension, assisted by the big tyres was comfortable yet responsive and the brakes were solid.
On the Road
Like the Mio, the traits that make the Beewee great fun on the track translate into good on-road performance and the big tyres actually improve the ride quality, soaking up road imperfections very effectively. The engine feels a bit more powerful than the Mio, pulling up hill slightly better, even with a slightly heavier rider. To continue the theme the brakes are also effective. All in all this light, small machine is an absolute blast for urban traffic work with a reasonable turn of speed when it is needed. On the road the Yamaha Beewee 100 is a very entertaining and effective machine.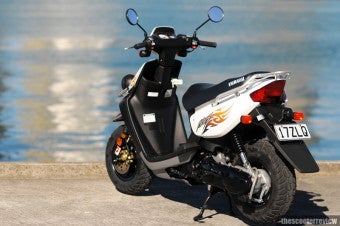 Living With It
Day to day usefulness of the little Beewee is very good, I said it once and I'll say it again… lightweight, small scooters are the way to go. These attributes make regular activities much more straightforward. Little things like putting a scooter on its stand that you do multiple times a day… if they aren't simple, become very irritating parts of your life. The Yamaha has this same advantage along with a small front glove box and manages to squeeze a full-face helmet into the under-seat compartment. All in all a good quality, useful machine for everyday use … that plus the smile it puts on your face when you ride it is how it edged it's way into the top 3.
 
Position 2: CPI GTR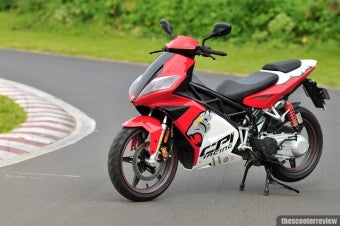 78% Winner: "Racer X" Award.
The CPI really was something of an unknown quantity in this test; it is a long way from all the other bikes in that it is the farthest from what could be called a "conventional" scooter. It sure doesn't look like one… it looks, well like a sports bike of some sort. With 17" wheels, no step through and virtually no storage this is an unusual beast. I really had no idea how it would rank considering this… well I really didn't need to worry… here it is in second position. What really stands out about the GTR is that it does everything well and is extremely competitively priced for the features it offers.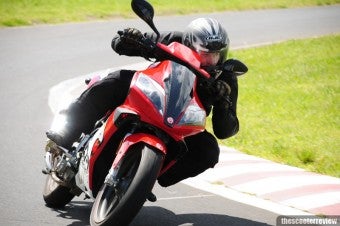 On the Track: 38.4 seconds
The large wheels, powerful brakes and motorcycle style riding position made the GTR feel instantly stable on the track. A bit of extra power meant it gained quite a bit of time down the main straight and in the sweeper. The above time was by no means the fastest you could get out of the GTR, it took a bit of getting used to after the nimbleness of the small-wheeled machines and needed a bit more man handling to get leaned over. The overall feel is very much one of confidence even on our tight, twisty test track, with a few more laps under its belt this bike would be blisteringly fast. The only minor niggle was that the centre stand scraped quite early and we would probably just remove it… and save a few kilo's in the process.
On the Road
I defy you not to ride this machine aggressively on the road; it has stability, brakes and a riding position that just begs you to push it hard through corners. I have no doubt that you will be looking for the back roads on your daily commute just so you can find a few twisty sections to attack. The engine is powerful enough to make for an entertaining ride and it is capable of motorway commutes, although the top speed is only around 110kph. The main area the GTR falls down a bit is the seat/riding position… the designers, in there rush to build a motorcycle-scooter-crossover-hybrid-thing seem to have forgotten that there is no motorcycle style fuel-tank. The upshot is that the forward sloped seat and rearward mounted foot pegs push you weight forward, which is fine except you only have you hands to brace you. The seat needs to be mounted a bit more flat and ideally the pegs moved forward a little. Other than that there really isn't anything to complain about, suspension is good, combining with the wheels to nullify most road imperfections. Performance is more than adequate, even so…. please build me one with 30hp!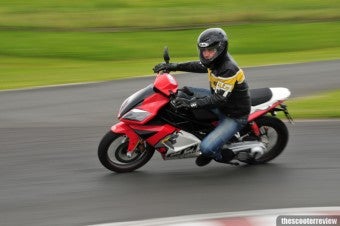 Living With It
This is where the CPI lost a couple of points and is less an issue than part and parcel with the design ethos. There is essentially no storage… just a small compartment under the pillion seat… big enough for your cell phone and perhaps a super lightweight rain jacket. The seat is a bit of a nuisance, you will either grow to live with it… or hate it. The stands are quite heavy to use and a bit upright for my liking, not particularly confidence inspiring. The high seat and weight will place it lower in some rider's wish lists. The controls, gauges etc however are all great; it looks fantastic and is built well with quality feeling components. Basically if this is a bike you enjoy riding you will ignore the above foibles for its grin inducing ability.
Position 1: The Big Kahuna and Winner of the 2008 Mid Size Super Battle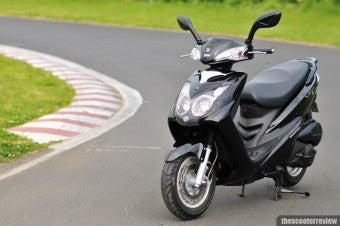 81% SYM VS150
I have already stated that to even make the cut for this test is a difficult thing to do, to win it a bike needs to be capable in all areas, it has to ride well, be well built, comfortable, affordable and innovative. The SYM VS150 epitomises this "hyper capable all rounder" role. It looks great, with a modern approach to styling and accoutrements such as LED head and taillights. It is fantastic to live with, making the most of its space with a double sized under seat compartment, which will take a full face… AND an open face helmet. It performs well both on road and track, in short it was a very deserving and clear cut winner on the day.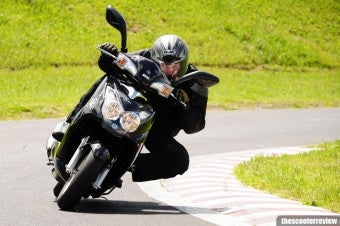 On the Track: 38.7 Seconds
The fact that the VS was so close to the GTR on track is an accomplishment in itself, the powerful engine in combination with good stability, fast direction change and effective brakes meant it was a breeze to ride fast on the track. Further to this the times were achieved quickly and were very consistent. All the judges rated the VS within the top bikes to ride on the track, much of this is due to how easy it is to get used to and ride fast and smooth.
On the road
The SYM managed to be both fast on the track and comfortable and entertaining on the road, this is no mean feat. The suspension was compliant without being too floaty yet handled fast cornering without untoward bounce or bumpiness. The seat is comfortable and easy to move around on, with plenty of room for a pillion and enough power to carry one. Overtaking and hill work is achieved without fuss or bother and the brakes are more than up to dragging you to a stop quickly if you get a bit overzealous with the throttle. Like all midsize scooters the VS is a city machine but it will handle highway trips without complaint.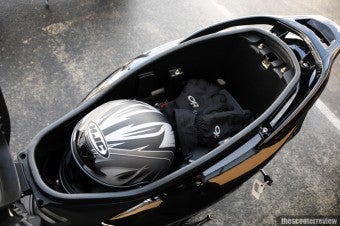 Living With It
This is the icing on the cake for the SYM VS150 and the area that really pushed it over the top for the victory. Storage is phenomenal with a double length under seat compartment that will take a full-face helmet and an open face for the pillion or a helmet plus your full wet weather gear, gloves etc with ease. It is fairly easy to move around and the centre stand is easy to use even for lighter people, a side stand is also standard equipment. In short virtually everything we take into account is present on the VS in spades, right down to remote seat opening (from the ignition) great instruments and a powerful headlight. The bike is also well put together from quality components. Unquestionably a worthy winner, if you are in the market for a midsize machine, take the SYM for a ride!

So there you have it, the end of another very exhaustive Comparison Test, from a very worthy few that made the initial cut we've whittled it down to the best of the best and we're sure you won't be disappointed if you take our advice and test ride any of the included bikes that fit your purposes.
Results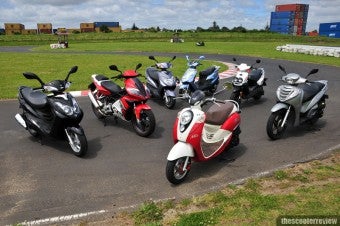 Here are the results for the Midsize Super Battle. The top result for each category is highlighted.
Note: Results are given as a mark out of 10 with 10 being the best result.
| | | | | | | | | | | | |
| --- | --- | --- | --- | --- | --- | --- | --- | --- | --- | --- | --- |
| Scooter | Lap time | lap rank | Road Course | Handling | Performance | Fuel Consumption | Value for money | Ease of Use | Styling | Build Quality | Total |
| SYM VS150 | 38.7 | 9 | 10 | 8 | 9 | 9 | 10 | 9 | 8 | 9 | 81% |
| CPI GTR 180 | 38.4 | 10 | 10 | 10 | 9 | 6 | 9 | 6 | 10 | 8 | 78% |
| Yamaha Beewee 100 | 39.2 | 8 | 9 | 9 | 10 | 7 | 9 | 9 | 8 | 8 | 77% |
| SYM Mio 100 | 39.4 | 7 | 8 | 9 | 9 | 8 | 9 | 9 | 9 | 7 | 75% |
| Yamaha Cygnus 125 | 39.2 | 8 | 6 | 7 | 8 | 7 | 6 | 9 | 8 | 10 | 69% |
| Suzuki AN125 | 39.8 | 6 | 8 | 7 | 7 | 10 | 8 | 8 | 6 | 8 | 68% |
| Italjet Torpedo | 40.2 | 5 | 7 | 8 | 7 | 8 | 8 | 7 | 7 | 6 | 63% |
 
Here are the performance figures and test results for the Midsize Super Battle
| | | | | | |
| --- | --- | --- | --- | --- | --- |
| Scooter | 0-50kph | 50-80kph | Economy | Lap time | Dry Weight* |
| CPI GTR 180 | 5.5 | 8.8 | 3.5L/100Â  67 MPG | 38.4 | Â  |
| Italjet Torpedo | 6.3 | 10.5 | 3.0L/100Â  78 MPG | 40.2 | 135.0 |
| Suzuki AN125 | 6.3 | 16.2 | 2.4L/100Â  98 MPG | 39.8 | 110.0 |
| SYM Mio 100 | 7.0 | NA | 2.9L/100Â  81 MPG | 39.4 | 87.5 |
| SYM VS150 | 5.2 | 8.6 | 2.6L/100Â  89 MPG | 38.7 | 133.0 |
| Yamaha Beewee 100 | 7.6 | 12.5 | 2.9L/100Â  81 MPG | 39.2 | 91.0 |
| Yamaha Cygnus 125 | 6.3 | 9.8 | 3.0L/100 78 MPG | 39.2 | 116.0 |
*NB Weight is as per Manufacturers specification
Comments
(6)


Subscribe to this comment's feed