Page 2 of 9
Position 7: Italjet Torpedo 150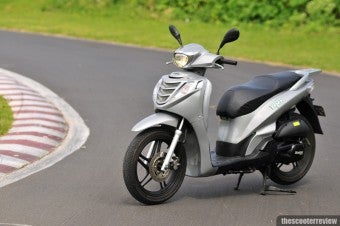 63% Winner: "If they be Giants" award
With European styling, big wheels and a tall seat the Depth Charge… sorry Torpedo is not the bike for everyone. However if you are a little taller than average, or want a more upright seating position along with solid performance whether one or two up then the Torpedo may well be the bike for you. I am tall and absolutely loved the riding position, it was nice and upright, creating a very comfortable riding position conducive to a straight back and doing away with the "hunched shoulder bent spine" position most scooters provoke. Conversely the tall seat position and slightly heavier feeling machine make it very awkward for a smaller rider.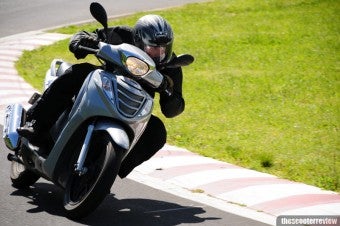 On the Track: 40.2 Seconds
This was a tough test for the Torpedo because as a track weapon… the Torpedo makes a really good urban cruiser. The big wheels and stiff suspension did assist with its on track performance. However the overall set up made for slow direction changes and the brakes, although reasonably powerful were very hard to manipulate and had very little lever travel meaning that hard braking was always a somewhat hair raising procedure.
On the Road
On the road the Torpedo is very good, the big 16" wheels soak up bumps in the road well and create a stable platform that always feels solid. The engine makes enough power to be tractable in virtually all urban situations. It will also manage the odd trip on the highway without any real issues.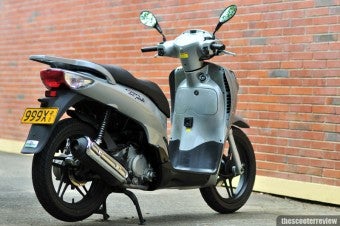 Living With It
This is where the Torpedo was hit fairly hard; it isn't that it is bad… more that many of the elements are just not quite right. There is an under-seat storage compartment, it just isn't really big enough, no way you will get a full face helmet in there in fact there is barely enough room for a bulky jacket, and closing the seat is a somewhat tricky proposition at the best of times. There is a front glove box but it is too small to really fit anything in. The height and weight combination makes it a bit awkward to put on the centre stand and manoeuvring is a bit harder than most others in the test.