Page 3 of 9
Position 6: Suzuki AN125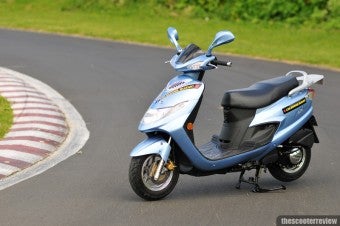 68% Winner: "Scent of an oily rag" award
The little Suzuki was by far the winner in the fuel economy stakes, returning just under 100mpg. This is an even more dramatic figure when you consider that the AN125 was a long way from being slow. Normally bikes that deliver exceptional fuel economy are glacially slow, not so with this small-bodied Suzuki, it produced 0-50kph times well in the mid pack… this is astounding and extremely positive for an urban machine.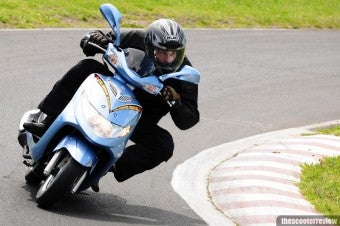 On the Track: 39.8 Seconds
The track was not the AN's forte, the light, small bodied machine rolls on small 10" wheels which normally equates to quick direction changes and late braking on the track. Unfortunately it was neither as light, nor as "chuckable" as either the Mio or the Beewee and made similar power. There was also a somewhat uneven quality to the lean angle; it was less progressive than I would have hoped. The brakes however are fantastic… not the strongest in the group by a long shot, however by far the best for lever feedback and control.
On the Road
Some of the AN's foibles on the track were irrelevant or even positive on the road, the small wheels did as expected provide a bit of a bumpy ride quality but it was much smoother than I would have expected. The power and lean angle where both more than acceptable and provide fast, easy manoeuvring in tight traffic. The brakes were great on the road with the fantastic lever feedback providing progressive, predictable stopping even in less than perfect road conditions. Then of course there is the fuel… the Suzuki doesn't really use any… for everyday commuting this would be a real godsend, 98mpg sounds like a fairly ok number until you work out exactly how far that is… it is far… "a long time ago in a galaxy far, far away" far! When doing the fuel economy test I thought the fuel gauge was broken… the thing just wouldn't quit. Simply fantastic and if you are looking for an economical commuting machine you couldn't look far past the AN125 when the low purchase price and excellent fuel economy are combined.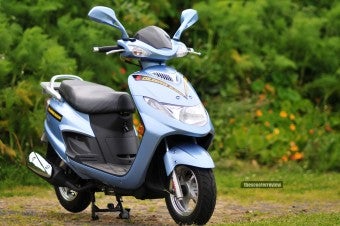 Living With It
Living with the AN125 is ok, not incredible… just ok. Actually, let me qualify that, using the Suzuki is just fine, it is light and low and easy to move around. The side and centre stands are both effective and easy to use. The switchgear and instruments all function well. So essentially it is perfect… it even has a remote release for the under seat compartment… so what is my problem then… well it is the under seat compartment… it is too small. I know this is a minor complaint. It will take an open face helmet and if it were 2 or 3 inches deeper it would take a full face. This is one of those annoying problems; I can't help but think if they got everything else so right how could they possibly have missed this glaring issue. Besides that minor point, it really is pretty damn solid in the ease of use stakes. Oh and don't forget you don't use any gas!