Page 4 of 9
Position 5: Yamaha Cygnus 125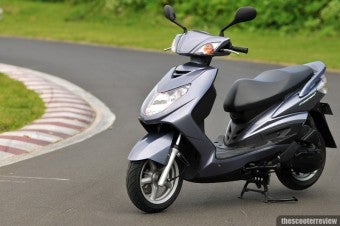 69% Winner: "Tight, Shiny Nuts" award.
Nuts? Yes, along with panel gaps and general lack of flaws in the assembly of this machine the Cygnus procures the "Build Quality" award. The Yamaha Cygnus 125 is the bike to buy if the most important thing in your life (further to convenience obviously) is that people's opinion of you isn't diminished by your choice of transport. The Cygnus looks fantastic, it's modern, classic design along with upright riding position and sedate color options mean riding it in a suit and tie isn't an obscene or incongruous image. The Cygnus is one of the more expensive machines in this test and that provides you with a reasonably powerful engine, super comfortable saddle, large under seat compartment and comfortable ride along with our pick for the best built/assembled bike on this test.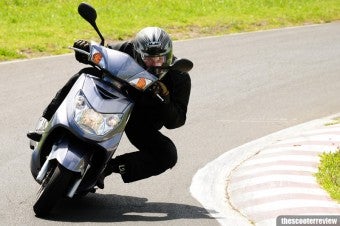 On the Track: 39.2 Seconds
39.2 seconds put the Cygnus near the top of the pack on the track where the smooth surface meant the front shock didn't play up. The smooth power delivery and solid brakes helped it around the short course well and the cushy ride didn't hamper it much at all. Overall a very easy bike to ride smooth and fast. It is not the most nimble of the group but that is unsurprising considering its design brief of comfort, and then some.
On the Road
The road really was the Cygnus's niche; the slightly larger size, greater weight and 12" wheels produce a very stable ride on smooth roads. Although performance wasn't blistering the Yamaha makes plenty of power for passing slower traffic and the occasional Highway commute. Brakes were also pretty good, I would have expected twin discs for the price but they work well enough. The suspension is fantastic and compliant… until you get to a bumpy stretch of road. Then the front becomes a very shaky, bouncy thing. Riding without both hands on the bars over uneven surfaces is not advised, this trait is a shame as it left quite an impression.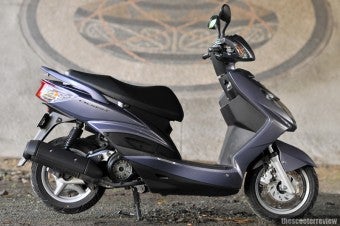 Living With It
The Cygnus is a bike for an adult; it is a bit bigger, a bit taller and a bit more awkward to move around off power than most of this group. Only marginally more awkward though, the stands both work easily and you never really feel like you are going to drop it when moving it about. Storage is good with a double sized, under seat storage area, which will take a small full-face helmet. Along with good instrument panel and an open front glove box it is pretty damn good where ease of use is concerned. Just one word of warning, if you are over about 6"2' the seat will probably be pretty uncomfortable, try before you buy.