Page 5 of 9
Position 4: SYM Mio 100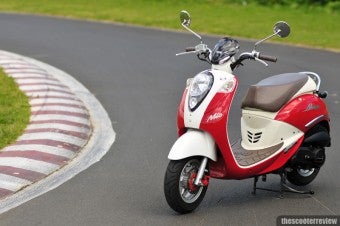 75% Winner: The "Ooooohhhh it's so CUTE" award
Now I don't want to be rude and sexist here… but I am going to be. The Mio's modern retro styling along with its lightweight and low seat make this THE number one choice of this test for all the ladieeeezzzzz out there. Stop yelling at me! I spoke to a couple of people who sell them and they are by a fair margin the first scooter that attracts most women in the store. And for once you can judge a book by it's cover, the Mio is an absolute gem of a machine with a peppy 100cc engine, good storage, great manoeuvrability and fantastic styling… did I mention the multicolour selectable dash lighting? Are you a man? Fine just get one in black… I guarantee you will have an absolute ball with it!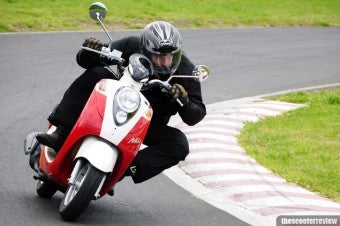 On the Track: 39.4 Seconds
The Mio is an absolute bucket full of fun on the track; this extremely lightweight and manoeuvrable little machine is in its element on the tight test track. The small wheels and light weight make direction changes lightning fast. It suffered a little due to a slightly lower horsepower count and slightly weak brakes but all in all on the track it was quick and extremely good fun.
On the Road
The features that make the Mio great fun on the track translate well to road use with its small size and light weight meaning fun and easy traffic work. The engine is perky enough for quick escapes from traffic lights and will easily keep up with the flow of traffic. The power does let it down a bit on bigger hills or when passing someone who is moving at more than a dawdle. Weight has a noticeable difference on the Mio so if you are large lad or lady you may want to look to something a bit more powerful.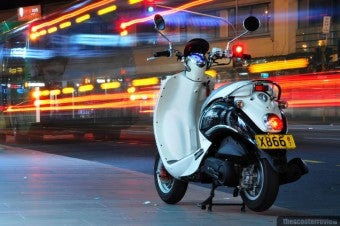 Living With It
Again, proving it's all around value the Mio 100 is pretty easy to live with. Obviously light, small and easy to move around and put on the stand. The amazing thing about the little SYM is the under seat compartment which will easily swallow a full face helmet, this is pretty astounding considering its overall tiny dimensions. Fit and finish is all pretty sturdy. Again, not designed for giants but more spacious than its size would suggest.