Page 7 of 9
Position 2: CPI GTR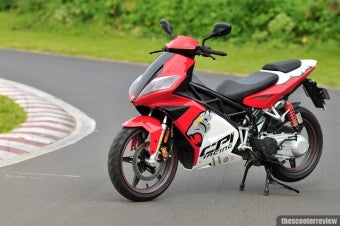 78% Winner: "Racer X" Award.
The CPI really was something of an unknown quantity in this test; it is a long way from all the other bikes in that it is the farthest from what could be called a "conventional" scooter. It sure doesn't look like one… it looks, well like a sports bike of some sort. With 17" wheels, no step through and virtually no storage this is an unusual beast. I really had no idea how it would rank considering this… well I really didn't need to worry… here it is in second position. What really stands out about the GTR is that it does everything well and is extremely competitively priced for the features it offers.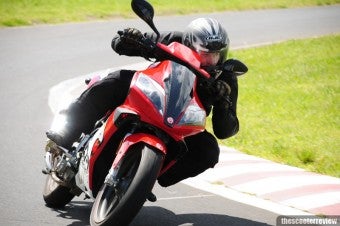 On the Track: 38.4 seconds
The large wheels, powerful brakes and motorcycle style riding position made the GTR feel instantly stable on the track. A bit of extra power meant it gained quite a bit of time down the main straight and in the sweeper. The above time was by no means the fastest you could get out of the GTR, it took a bit of getting used to after the nimbleness of the small-wheeled machines and needed a bit more man handling to get leaned over. The overall feel is very much one of confidence even on our tight, twisty test track, with a few more laps under its belt this bike would be blisteringly fast. The only minor niggle was that the centre stand scraped quite early and we would probably just remove it… and save a few kilo's in the process.
On the Road
I defy you not to ride this machine aggressively on the road; it has stability, brakes and a riding position that just begs you to push it hard through corners. I have no doubt that you will be looking for the back roads on your daily commute just so you can find a few twisty sections to attack. The engine is powerful enough to make for an entertaining ride and it is capable of motorway commutes, although the top speed is only around 110kph. The main area the GTR falls down a bit is the seat/riding position… the designers, in there rush to build a motorcycle-scooter-crossover-hybrid-thing seem to have forgotten that there is no motorcycle style fuel-tank. The upshot is that the forward sloped seat and rearward mounted foot pegs push you weight forward, which is fine except you only have you hands to brace you. The seat needs to be mounted a bit more flat and ideally the pegs moved forward a little. Other than that there really isn't anything to complain about, suspension is good, combining with the wheels to nullify most road imperfections. Performance is more than adequate, even so…. please build me one with 30hp!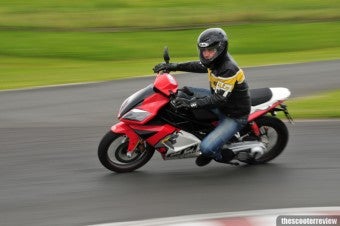 Living With It
This is where the CPI lost a couple of points and is less an issue than part and parcel with the design ethos. There is essentially no storage… just a small compartment under the pillion seat… big enough for your cell phone and perhaps a super lightweight rain jacket. The seat is a bit of a nuisance, you will either grow to live with it… or hate it. The stands are quite heavy to use and a bit upright for my liking, not particularly confidence inspiring. The high seat and weight will place it lower in some rider's wish lists. The controls, gauges etc however are all great; it looks fantastic and is built well with quality feeling components. Basically if this is a bike you enjoy riding you will ignore the above foibles for its grin inducing ability.