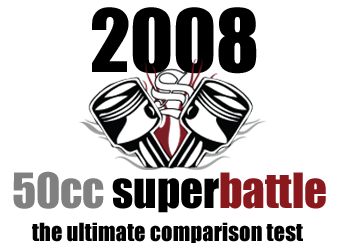 It's time for a battle. There's only one certain way of comparing similar items. A back to back comparison test. Reviews are fine but you're working in a vacuum to some degree; regardless of how you much you try, it's impossible to be exact because as time passes your memory fades and even the best written notes don't fully describe all the various idiosyncrasies. So ultimately, getting the items together at the same time and place is the only way of choosing a definitive winner.
We managed to pull together thirteen 50cc bikes for our first comparison test. Sadly we missed some bikes because demos were simply unavailable. Most of the larger manufacturers are covered although we are missing both SYM and Kymco. The SYM Mio demo was unavailable and to put it bluntly, our local Kymco importer actually thinks his bikes don't need to be reviewed. The bikes assembled however include most of the sensibly priced and popular 50cc bikes available.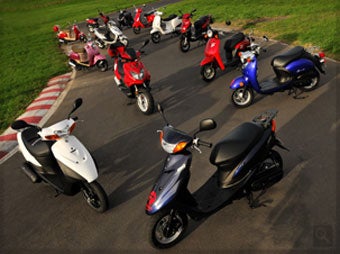 Our scooter reviews are rated over seven categories which give a fair impression of how each bike compares to others, but it's more of a technical process than a seat of the pants result. So for our first comparison test we've added two further categories to the review criteria. First, we're factoring in the bikes ultimate lap time around our test track as a better representation of which is the best handling and secondly, a longer more extreme road course.
I rode each bike over the exact same number of laps with as similar as possible perceived effort each time. They certainly weren't banzai laps…call them 80 per cent of maximum. What I did garner instantly is that some bikes are just much easier to ride. The good bikes hit the approximate best lap time on the first or second timed lap. Others took a lot longer to get confident on. Oh…and there is a massive difference in speed. The fastest bike was a full 5 seconds quicker than the slowest. Given they all have the same size motor and that the lap is very short; averaging about 44 seconds on a 50cc scooter, that's a massive difference. In fact, the fastest bike would lap the slowest bike in just 8.4 laps. Each bike was then ridden by three different judges over the road course on the same day and finally subjected to our normal acceleration and fuel economy tests.
So the end result is the most definitive 50cc scooter comparison test ever undertaken. So who will win?
11th Place: Piaggio Zip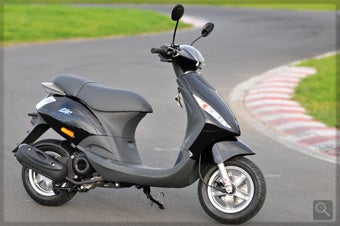 The Piaggio Zip is slow. Imagine this…a snail. No, a wounded asthmatic snail. Nope…hold on. A wounded asthmatic snail dragging a Humvee, the Humvee has no wheels though. Sitting on the Humvee is the entire 49ers football team…and it's in sand, going up a hill. It's that slow. In fairness the Zip is a fully legal and fully restricted four stroke 50cc scooter so it was never going to be rapid. Word is, that with its restriction removed it is a little quicker. I certainly hope so. We clocked it at 19.9 seconds to 50kph (31mph). This should put it into perspective; 19.9 seconds is almost the same amount of time it takes the Yamaha Jog to accelerate to 50kph come to a complete stop and accelerate back to 50kph (31mph) again… crazy.
On the Road
On the road the Zip suffers from the same problem. Severe lack of power. Up hills you instantly become a small four stroke speed bump to any cars behind you. On flat ground it isn't so bad as the bike gets up to a reasonable top speed. It's actually a real shame as the suspension is nicely sorted and the front brake is strong. All round it's a very nice handling 50cc machine. It's just way too slow to be practical to any normal human being driving on the road with other vehicles.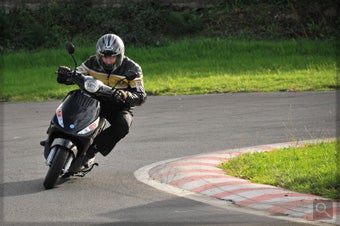 On the track - Lap Time 47.8
It was in reality quite hard to judge the Zip on track as it was so slow I was able to take the two faster corners without even lifting the throttle; so I never really got to push it. I must say that the Zip was actually very stable and remarkably easy to ride. I'd call it very similar to the Yamaha Vino and Honda Today in that respect. The Zip does run a front disc brake which makes it superior to the other four stroke bikes. With some more power the zip would probably rank surprisingly high on the track.
Living with it
Living with the Zip is about middle of the road. It just falls down on a few conveniences offered on other bikes. It won't take a full face helmet in the under seat storage area, doesn't have a glove box and has no remote release for the seat. The Piaggio does however excel in one department…fuel economy. How does 2.4L/100kms or 96.6 MPG sound? This is the best result we've ever returned; regardless of engine size. On top of that the Zip is certainly one of the better built bikes in the test and it's quite nice to look at too. Altogether it's a very reasonable proposition if fuel economy and overall quality are your chief concerns.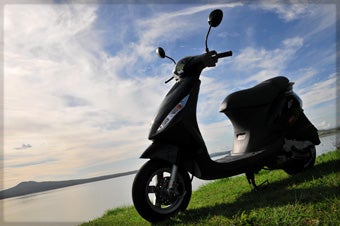 Summing up
Finishing in last place may sound like bad news till you take a look at the numbers. Overall there really isn't a vast difference between top and bottom. It just comes down to some bikes being better in a larger portion of categories. The Zip really is a very nice scooter; it's just very very slow. If you live in a flat city without any major hills on your commute then the Zip is definitely worth a look. On top of that it is so incredibly good on gas…
10th Place: PGO PMX 50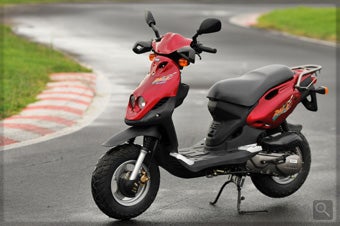 As I zipped around the track I wondered to myself "am I on a farm" because from where I'm sitting it sure look likes I should be. I'm not sure quite what look PGO were going for with this bike, I guess they were aiming at the rural farming café sheep and cow sector. It's not a big sector of the market but don't think it isn't something worth looking into. There'd have to be a least eight people worldwide interested in a scooter styled for a racey farmer who likes a good caramel macchiato. PGOs next bike is styled for the even more lucrative undersea hog and swine sector. It looks a bit like a cross between a mermaid and a deep sea racing Mullet…
On the Road
The PMX has a secret weapon on the road. It's loony-bin fast. Really, this thing hits a top speed of 74kph (46mph), which is the fastest of any 50cc scooter we've tested so far. This speed is both fantastic and somewhat dangerous. See on most 50cc bikes you twist the throttle open to full noise and hold it there the entire time you ride. Not so on the PMX, as it's so fast you run the risk of getting speeding tickets. The problem however is its tall gearing that gives it the speed, not extra power. This means acceleration from a standing start is pretty ordinary and hills really slow it down. The large wheels soak up most road bumps better than the usual 10inch wheels and together with reasonable shocks and a nice strong front brake add up to slightly better than average performance.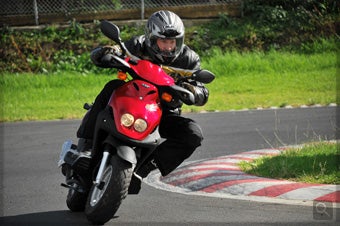 On the Track - Lap time 47.0
Around the test track the PGO felt considerably less nimble than most of the other bikes on the test. This is because the bike is both larger and heavier than most and the semi knobbly tires certainly didn't help with ultimate grip either. The front straight was simply not long enough for the PMX to get up to its incredible top speed and claw back some lost time. Overall it ranks a bit below average as a carving weapon.
Living with it
The PMX is certainly not a bad bike. In fact for some people it's probably perfect. The seat height was one of the tallest of the test group and with the overall dimensions of the bike it could work for larger riders. Unfortunately the seat is fairly far forward so your knees may end up under the handle bars. It will take a full face helmet under the seat and has a small glove box up front so it's better than some bikes when it come to convenience. Fuel consumption was good and overall build quality seems quite high as well.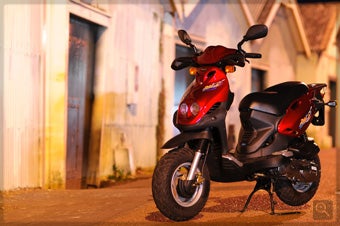 Summing up
So who's the PMX for then? To be honest I'm not entirely sure. There are certainly better bikes in this test for less money; however none of them will get you anywhere as fast as the PMX. On flat ground the PMX is a rocket bike. I'd say that if you live in a city without hills where traffic is fast moving then the PMX would probably be the best bike for the job…oh and if you live on a farm.
9th Place: URBAN R4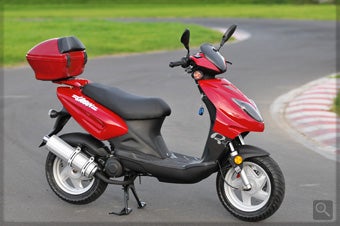 The Urban R4 is the 'seven series BMW' of the test group. This scooter has more wiz bang gizmos than a Japanese combination cell phone/hair dryer. (They're pretty gizmo laden and very convenient for the ladies or long haired 80's guitar players). The R4 is a good example of how to add perceived value. Take a pretty average scooter then add more features. What do you get? A super scooter, or at least one that appears that way if you only look skin deep.
On the road
On the road the R4 was again very similar to the PGO PMX. It posted a solidly fast top speed while also managing to be reasonably quick up hills. Suspension was also quite solid and combined with the larger wheels and overall size it's quite a comfortable bike on the road. I imagine larger riders who aren't interested in carving up tight turns and want a solid feeling bike would enjoy the Urban over most bikes in the test.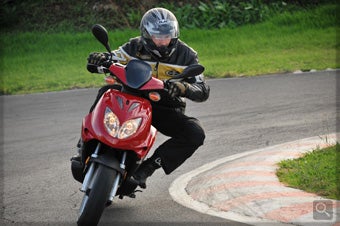 On the track - Lap time 46.0
The R4 was much like the PMX on the track. It felt heavy and cumbersome and was somewhat more intimidating to muscle around. Of all the bikes I was probably least confident on the R4. Partly because it was brand spanking new and the tires had not been scrubbed and partly because of its taller riding position. I imagine with more time on board I could certainly post a better lap. I must say its ABS brakes were strong and up there with the best.
Living with it
The R4 is a mixed bag in terms of how it would be to live with. The Urban has remote start off the key fob and an alarm…standard. It also runs ABS brakes on the front wheel. None of the other bikes offer these features and there aren't many that do at anywhere near the price of the Urban. Sadly they should really have got the simple things right before adding the gizmos. There's no remote release for the seat, no glove box and the fuel cap is the horrible, and vastly out of date kind that should be illegal. A few small changes and the R4 would be killer.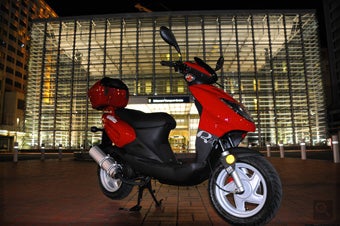 Summing up
The R4 is a whole lot of bike for a reasonable amount of money. The only reason it didn't finish further up the rankings is that it returned poor fuel economy. We repeated the test and got the same result so it's how we scored it. We'll re-test it again in the full review as I suspect it's just something up with the particular scooter we had for the test. All together the Urban is a great bike and would suit larger riders who want the extra features.
8th Place: Lifan Metro 50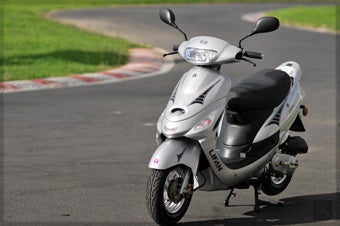 "If I follow my mind"…that's the line currently playing on my stereo. It's Jimmy Cliff and that's the name of the song too. Actually it's a pretty damn cool song. Look it up and download it…anyway. That about sums up the Lifan. If you followed your mind it's pretty hard to pass up. It's a quality Chinese bike that is incredibly cheap and provided it's supported in your country by a strong distributor; a very logical choice of scooter. Sadly most of us don't follow our mind; we follow our hearts or maybe our egos. This is why most of us want a Ferrari. Smart people want a Corolla.
On the road
The Lifan is a surprisingly nice bike on the road. The Metro gets up to a good top speed but is a little slow off the mark and up hills. Suspension is good and the front disc brake is strong with good feedback. All together the Lifan is about 'middle of the road' compared to the other bikes on the test. A bit more speed off the line and the Lifan would be right near the top of the list.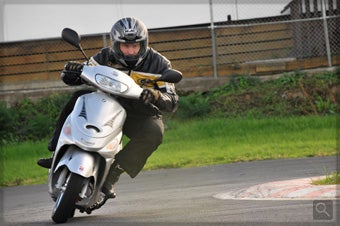 On the track – lap time 47.3
The Metro 50 was one of the slower bikes around the test track as it just didn't accelerate fast enough out of the corners to post a fast time. Braking and handling were actually pretty solid all round and it was generally very easy to ride. It's just the bikes lack of mid range power that hides its true potential. With a small change to the variators the Lifan Metro would certainly be quicker around the track.
Living with it
You get a hell of a lot of bike for your very small investment, that's for sure. The Metro will take a full face helmet and has a glove box up front. It also has a kill switch on the side stand which is something of a bonus for a 50cc bike. Build quality is not up to the likes of the Honda's and Vespa's but it's certainly better than one would expect for such a small outlay in funds. The Lifan Metro also happens to return incredibly good fuel economy at 2.6L/100kms - 91MPG. All round the Metro would be pretty easy to live with.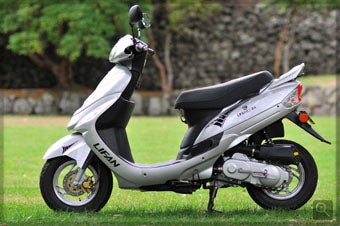 Summing up
This one's pretty easy. If you're tight on the cash and want to get into scootering for the least amount of money as possible; buy the Metro. It's a quality bike at an amazing price and will hold it's own against most scooters that cost twice as much.
7th Place: Yamaha Vino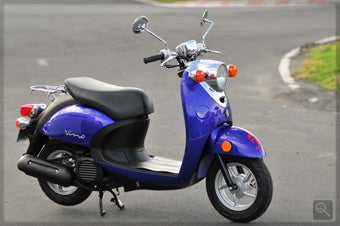 Do you own a long fur coat? Walk with a cane? If you're that way inclined in any way then the Yamaha Vino is your bag. It's certainly got the most pimp'n style of the bikes tested. There's plenty of chrome which is a vital element on any pimp ride. In fact the Southern Californian pimp's union is contemplating adding a minimum chrome level to their transport act2.v of 2006. Rest assured the Vino would easily make the cut.
On the road
On the road the Vino was a solid "good" and right on the cusp of "very good". The Vino still ran some form of restriction so was limited to a stop speed of 50kph (31mph). As you can imagine this put a damper on what would have certainly been a more solid performance. Handling was very predictable with a nice suspension set-up that dealt with most bumps reasonably well. Brakes were fairly solid but unfortunately there's no disc brake anywhere to be seen.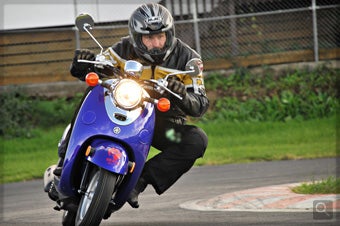 On the track – Lap time 45.1
The Vino was surprising on the track; its lap time of 45.1 seconds doesn't give you the complete picture. Factor in its slow four stroke acceleration and top speed cut and you can immediately see that it was surprisingly quick through the corners. I'd put this down to its small size and nice suspension set-up. With a bit more power the Vino would be great fun on track.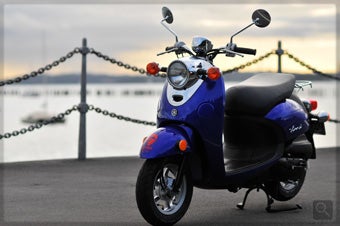 Living with it
Ease of use wise the Vino is very good. It has a large under seat storage area that will hold a full face helmet, small glove box up front, remote access to the under seat storage on the ignition and nice clear gauges. The only thing it really misses out on is a side stand. That being said the scooter is light and easy to put onto the center stand.
Summing up
The Yamaha Vino is probably most likely to compete with the Vmoto Milan and Keeway Venus. It's basically a style issue. You'll likely buy the bike you prefer the look of the most. You pay a bit more but gain the superior build quality of the Yamaha but being a four stroke you're never going to be as fast. Most pimps don't hurry, they cruise the streets; so it shouldn't be a problem.
6th Place: Adly Silver Fox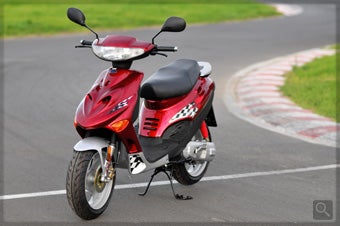 The silver fox. Man do I want to buy one of these little guys. Not for the reasons normal humans buy scooters, my reasons are far more complicated. I want to buy one so that when people ask me what I ride I can say (Read this in a deep voice and like Clint Eastwood) " I ride…a Silver Fox". That's gotta get me laid…anyway the Adly Silver Fox is when things start to get serious in the test. Things are getting tighter now, mere percentage points separate most of the remaining bikes. I'd happily own it.
On the road
The Adly has an advantage like the Urban and PMX; big wheels. The big wheels give the bike a more compliant ride over road imperfections and the bonus of a larger contact patch for more grip. Over the road course the Adly really did everything well; reasonably solid acceleration, a good top speed and it held its speed up hills. The Adly's only real failing point is its relatively uncomfortable seat.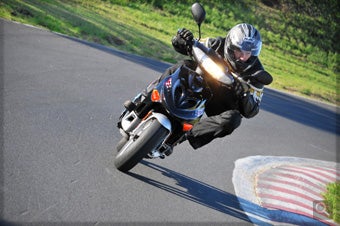 On the track – lap time 43.5
The Silver Fox really worked well for me on the track. It's a basically a small bodied scooter with big wheels so it's easy to throw around while having the advantage of extra grip. Brakes were solid, handling was very predictable and the bike really never put a foot wrong. The fact that the Silver fox clocked our equal 2nd fastest time is a good indication of how well it handles. Due to lack of time we had to run the Adly a few days later hence why the bike pictured varies in color. (They sold the red one on us) Seems scooters sell fast these days.
Living with it
The Adly is probably slightly better than average to live with. Fuel consumption is about average for a 50cc machine but the Adly includes storage for a full face helmet, a lockable glove box up front, a side stand as well as a centre stand and a reasonable dash with high beam indicator and fuel gauge.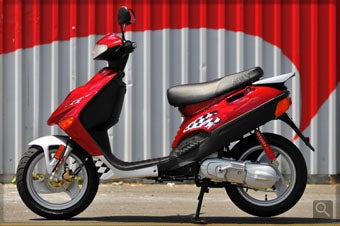 Summing up
The Silver Fox is an all round solid scooter at a very competitive price in most countries. The lap time alone is a clear indication of how well it rides. It would certainly suit anybody looking for the secure big wheel feel the bike provides. It's surprising a bike this good ended up in 6th. Again it's so tight that just a few percentage point changes would see it near the top.
5th Place: Honda Today Motorino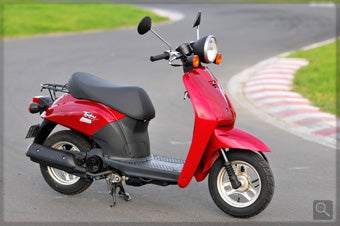 The Honda Today is a no frills approach to scootering. On paper it certainly doesn't look like a very special bike. It's not very fast, it's not amazing to look at, and it's a pretty basic machine. It is however a great little bike to ride. Its light weight and overall design just make it perfect for inner city commuting. I secretly knew the little Honda would sneak up the ranking.
On the road
Over the test course the Today did exactly what I expected it to. It was completely drama free in all departments. The bike is small and so are the wheels so it's not the smoothest ride but who cares when it's so fun to throw into corners. Something about the little Today just makes you want to ride like a crazed loony through traffic…yelling, the whole way "I beat you".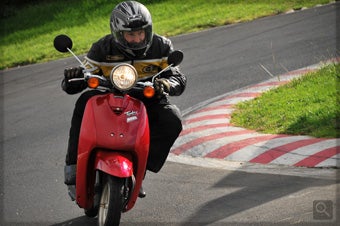 On the track – Lap time 47.3
On track the Today was a little slower than I expected. The bike was very easy to ride as I did basically my fastest time on the very first lap. From there each lap was essentially the same. I imagine it's just the very thin tires and weak four stroke power output that slowed it down. Still, it's so easy to ride anybody could ride it fast.
Living with it
The Today is very easy to live with. It takes a full face helmet, has good clear gauges, is dead easy to move around and does incredible gas mileage. We returned 2.5L/100 kms (94MPG) which is a superb result. Imagine it, you put in a gallon of fuel (3.8 liters) then ride a nine mile (15kms) commute ten times…TEN TIMES. To work and back for two weeks for $4. Why everyone on earth doesn't have one I don't know.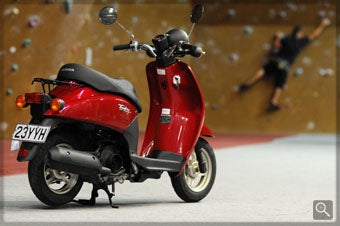 Summing up
Well the Today is pretty straight forward. It's exactly what a scooter is to most people. It's cheap to purchase, nearly free to run it's so good on gas and is built well so will run longer than most of us will live. I still think it's the bike to have for inner city commuters.
Honda Today Motorino 50 Review
4th Place Equal: Vespa LX 50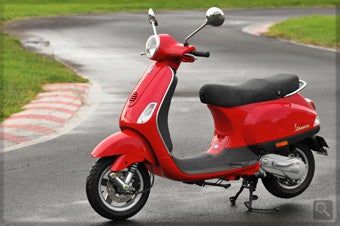 So the big Vespa only makes equal 4th. Well it's not a massive surprise to be fair. The Vespa LX is a great bike but has been around a while now. It's bigger and a lot heavier than most 50cc bikes so isn't quite as easy to live with as some. The biggest difficulty a bike like the Vespa LX has in a test like this though is price. An LX is the price of more than two Lifan Metro's. Yes the Vespa's an all round higher quality machine but it certainly isn't twice as good.
On the road
The Vespa excels in certain ways on the road. It's not fast, it's not slow and it's certainly not remotely sporty. It is however very secure on the road. This is what attracts some people to Vespa's; people who prefer a bigger more solid feel will love it. The bike is certainly less affected by bumps and imperfections than smaller lighter scooters. It's also got a reasonable sized seat so will carry a pillion better than most 50cc scooters.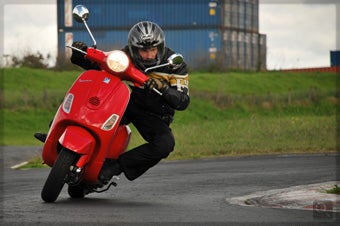 On the track - Lap time 46.0
The LX was never going to win the track battle…that was for certain. The Vespa weighs in at 102 kg, which is a full 33kg more than bikes like the Jog and Milan. So unless it had way more power or much stickier tires it simply couldn't be as fast. The LX also has a big wide seat which makes riding it fast rather difficult. All that being said the LX wasn't quite as slow as I thought it would be. A 46 second lap is still quicker than a fair few bikes.
Living with it
The Vespa LX is pretty easy to live with as it has most of the conveniences one expects of modern bikes. Really the only thing missing is a remote release for the seat. Given the bikes price I wonder why Vespa don't get around to adding this. I will say that the LX is probably not the best bike for small people. For example I see plenty of women riding them but I've also watched quite a few struggling to move them around.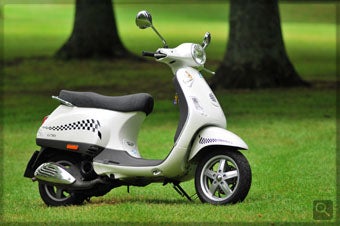 Summing up
The Vespa LX is still a bike very much worth considering. It's superbly built and will tend to hold its resale value far better than most scooters. If you're a bigger person then it should definitely go on your list of bikes to ride. Personally though…as soon as I saw the new Vespa S, the LX was old news.
4th Place Equal: Suzuki AZ50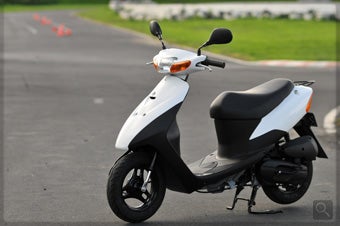 I think Suzuki knew I was writing this article and very carefully named their bike something boring so I couldn't do my usual piss taking of the name. Well you were wrong Suzuki people. AZ50, I mean what were you thinking, you might as well have called it @, just like Prince you could have had it known as a symbol. Even that stupid idea has more merit than AZ50…it's not even a name. It's an accident a rather ill technician made at the factory. The technician was filling in a form for a valve seat order then fell over and died while writing... AZ50 is the name of a bolt. That's what happened. The name may be bad but the bike is a total blast.
On the road
I rode the Suzuki on the road course after I'd ridden it on the track and I immediately noticed shortcomings not apparent on the track. The suspension is certainly not the highest quality of the bikes tested but the Suzuki is still great fun to hurl into corners, assuming they are very smooth corners as the small wheels and poor suspension didn't like mid corner bumps. The AZ50 is still one of the better bikes on the road because of its class leading engine and transmission combo.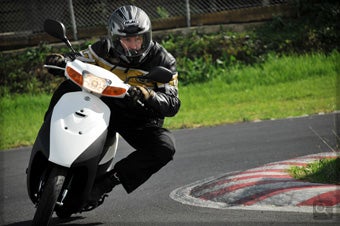 On the track - Lap Time 43.5
If I was ranking bikes on just track work the Suzuki would certainly be in the top two. This bike is so easy and so fun to ride it's a wonder everyone hasn't got one just to ride around a track on weekends. If you take braking performance out of the equation then the Suzuki would win hands down. The torquey little motor and light weight chassis feel perfectly matched on the track.
Living with it
This is where the Suzuki falls down. Suzuki basically built a fantastic engine, stuck it onto a great transmission then left it at that. They've compromised on pretty much everything else to meet a price point. There's no remote seat access, no disc brakes, no glove box and not even a high beam indicator. Now take a good look at the front forks, they look about as sturdy as hammer built out of balsa wood. We also returned below average fuel economy on the AZ50.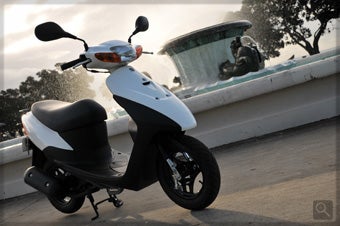 Summing up
Suzuki freshened up the styling of the AZ50 in 2008 and I must say the bike looks great now. Sadly they completely forgot to update the brakes to discs and avoided adding any creature comforts. Now this would be fine if they had no competitors…but they do. The Suzuki is still one of the best bikes to ride and it does look cool. It's certainly worth a test ride as it's got such a fantastic little motor.
3rd Place Equal: Keeway Venus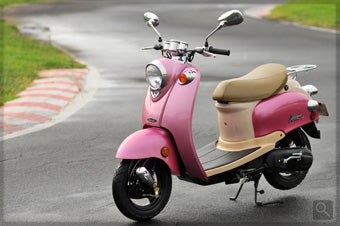 The Keeway Venus is a fantastic example of how far the Chinese manufactures have come in the last few years. A while ago there's just no way I'd have even considered a Chinese bike. Now it's all changed; a large portion of the bikes in this test are assembled there now. Keeway has a strong European component and it's this influence that has made the Venus such a solid bike. If there was ever a scooter that was going to be popular with the ladies…this is it.
On the road
Apart from feeling a little…well "Queen of the desert", riding the bright pink Venus around the road course was a lot of fun. Don't let its cute appearance confuse you; the Keeway is a 50cc road weapon. It's what a 50cc machine should be like; light, fast, easy to ride and economical. Obviously those traits mean it's never going to feel as solid on the road as, say a Vespa LX . Small light bikes with ten inch wheels like the Keeway don't pretend to be cruisers, they're straight up urban traffic weapons and the Venus is certainly one of the best.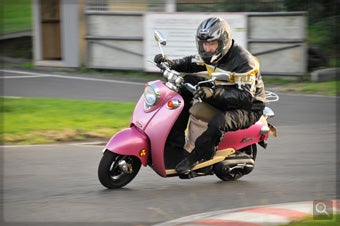 On the track - Lap Time 43.9
The Keeway Venus was a total surprise on the track. It was one of the first bikes I ever rode around our test track and after a billion attempts I clocked a 41.7 second lap. This was staggeringly quick for a 50cc bike. Fast forward to this comparison test and the best I managed was a 43.9 on exactly the same bike. Why so much slower? Well I didn't ride anywhere nearly as hard, I only rode each bike for 5 timed laps and most importantly the track was totally wet when we arrived and stayed green and very slippery for the remainder of the day. All that aside the Venus was fantastic on track. It's so light and easy to ride and has a great little engine; it just loves to be ridden hard. Definitely one of the best bikes on track.
Living with it
The Venus is about average when it comes to ease of use. It misses out on a glove box due to its retro shape and has no remote under seat access. It will however take a full face helmet under the seat and actually comes with a top box. On top of that the Venus is very small and light so it's very easy to move around. It also returned solid fuel economy for a two stroke at 2.8L/100kms (85MPG). The only real let down on the Venus are the drum brakes. It'd be a far better bike if Keeway fitted a decent front disc brake. Maybe next year's model?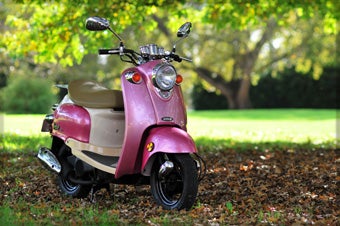 Summing up
I imagine if you're concerned with how your scooter looks or simply want something with a modern retro flavor the Keeway Venus is going to be it. Keeway really nailed the design of the Venus and it's simply a great scooter all round for a good price. Certainly a bike worth test riding and my pick for the ladies.
3rd Place Equal: VMoto Milan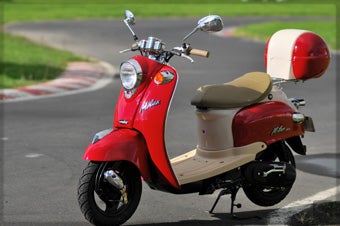 It's not a surprise the VMoto Milan ended up equal 3rd with the Keeway Venus as they're actually identical bikes. Funnily we didn't know this when we selected the various models for this test. We sure noticed it when we saw them together though. Keeway build the Milan for VMoto and also market the bike themselves in some countries. Given they're both the same bike it really shouldn't matter which you buy. VMoto do have superb dealer support and are now available in most countries so I'd probably lean towards them.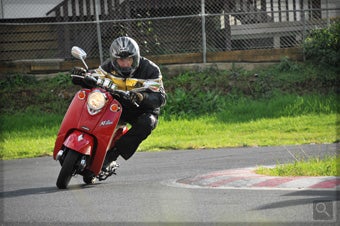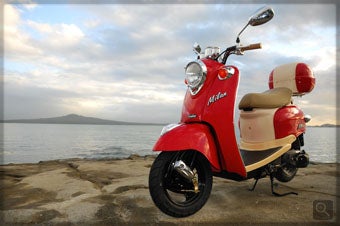 For a full summary of the Vmoto Milan have a read of the previous bike tested; the Keeway Venus.
2nd Place: Vespa S 50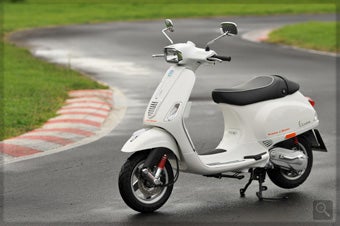 I knew the Vespa S was always going to do well the second I rode it. Now rumor has it the S is essentially identical to the LX but with different bodywork. Well if that's the case I think I either rode a pretty average LX or I'm losing my mind because the Vespa S sure seemed tighter out on the road. I guess it is probably the bikes lower weight. However what's making the Vespa S so popular since its launch is its new updated old styling. (That makes sense soon) It harps back to small sporty Vespa S of the 60s and 70s and it's clearly a good idea. The new S looks significantly cooler than the LX when they are parked next to each other. The shrinking down of the bodywork certainly works aesthetically and makes a lot of sense considering there is no spare wheel in there any longer.
On the road
The Vespa S has all the usual Vespa trademarks on the road. It deals with road imperfections better than most 50cc scooters due to its mostly steel construction and overall weight. Interestingly this extra weight doesn't feel as noticeable on the S as it does on the LX. From our seat of the pants measurements we suspect that Vespa has tuned the suspension and increased it's firmness as it certainly feels more positive back to back with the LX. If you're after a secure big bike feel the Vespa S is certainly the best of the bunch. The Vespa S ranked equal 1st on the road with all judges.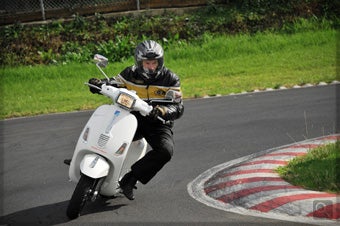 On the track - Lap time 45.4
The Vespa S was never going to set a killer lap time. It's a much larger and heavier bike compared to say a Vmoto Milan; in fact it's a full 26 kg (57 lbs) heavier. That's a lot of extra weight for a 50cc engine to lug around. The Vespa S does have a huge advantage over the LX on track though…its seat. The Vespa S has a new lower profile seat which makes it about a billion times easier to ride on track than the LX. All round the S ran the laps well but wasn't comfortable on the track. It's simply not a hooligan, it's a pimping cruiser.
Living with it
The Vespa finished equal first on our road course and finished out right first in both styling and build quality. Those qualities are what make owing a Vespa easy. The Vespa S has stepped up the game; it really is well put together and is definitely the best to look at if you like retro designs. Ease of use wise it's nearly perfect except for a lack of remote seat release and a fairly tall seat. Fuel economy is good for a two stroke and the Vespa S runs a nice strong front disc brake so won't need continual re-adjusting like a drum brake. All round very easy to live with.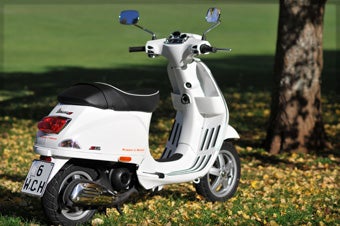 Summing up
The Vespa S is the bike I'd have if you told me I could have any bike on the test…FOR FREE. Now if I had to pay for it with my hard earned money...well no chance in a billion years. It's considerably more money than most of the 50cc bikes on the market. It is built considerably better than most; however it comes down to the riding and ease of use vs the cost. The S is definitely great to ride on the road and is the best of the bigger bikes. It's certainly the most adult bike of the test. For me though these facts are unavoidable…in most markets the Vespa is actually TWICE the price of the bike that won this test. The Vespa is absolutely not twice as good, not by any measure. To make matters worse here in NZ the Vespa S 50 sells for $5490 NZ, which is $3495 more than the bike that won this test. Get a load of them apples. Here's some very good advice. If you're going to drop many thousands of dollars on a scooter...buy a bigger bike that can actually be used on the freeway. The 125cc Vespa S is not a lot more money than the 50 S and far more practical. Definitely the choice I'd make. Remember, a 50cc bike is supposed to be cheap to buy, cheap to run and cheap to register. For the price of the Vespa S 50 in New Zealand I could buy a Suzuki Address 125cc and pay for all fuel costs and registration for FIVE YEARS...need I say more.
1st Place and 50cc Super Battle winner: Yamaha Jog CV50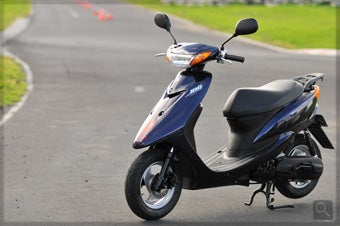 It's commonly called a slam dunk, a walk over, a drubbing; when a competitor easily beats the competition; that's what happened here. I was wondering if our independent review criteria would hold up to the closer scrutiny of a comparison test. See the Yamaha Jog was our top ranked 50cc bike going into this comparison test and I hoped that we hadn't got it wrong. The other question mark was the six new 50cc scooters we hadn't tested. Would any of them spring a surprise and overthrow the favorite? Nope…the Yamaha crushed them all. It's quite simple why the Jog won so easily; it's the best product all around. Check these figures. In our various categories the Jog received 1st in performance, 1st in the lap battle, 1st in ease of use, 1st in value for money, 1st in handling and equal 1st on the road course. That is a lot of 1st place finishes. Congratulations are in order for Yamaha. The Jog has been around a long time now and it's good to see Yamaha are continuing to add new features to a solid scooter.
On the road
The Jog was always going to be good on the road and rightly so. It's the fastest accelerating 50cc bike we've tested so far. That brisk acceleration means the bike is fast away from lights and fast up hills. Compared to the slower four stroke bikes it's basically in another ball game. The Jog is only .2 of a second slower to 50kph than a 100cc Honda Lead. Combine this rapid acceleration with solid suspension, an improved chassis, strong brakes and there was never going to be a question. It's not the perfect scooter as it's still got small 10inch wheels and can be a little bumpy, but all is forgiven when you turn the throttle and throw it into the first corner.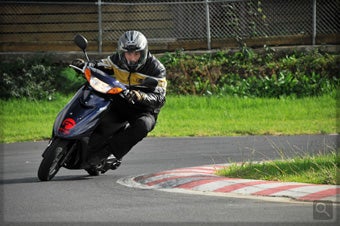 On the track – Lap time 42.8 (1st)
Like the road comparison there was never any doubt in my mind as to which bike was going to be fastest around our test track. The Yamaha's only real competitor on the track was the new Suzuki AZ50. The Suzuki put up a good fight but nevertheless…it lost. The Yamaha is nearly a second quicker to 50kph (31mph) and runs a much stronger brake setup than the Suzuki. Combine this with handling that matches the Suzuki on track and whammo the Yamaha wins with the fastest time of the day at 42.8 seconds. With a few more laps under the belt and the race face on, the Jog would have to be good for low 41s or maybe a high 40 second lap.
Living with it
Not only is the Jog the fastest scooter of the test it's also the easiest to live with. Of all the bikes tested it's the only one to provide all of the main scooter necessities. The jog will take a full face helmet, has a remote release for the seat on the ignition, an open glove box up front and a quality set of gauges. Combine this with solid fuel economy of 2.8L/100kms (85mpg) and you have a scooter that is dead easy to live with and very affordable to run. Our own 1988 Yamaha Jog is still running strong twenty years down the track and as you can well imagine, it's been thrashed to death every second of its long painful life.This 2008 Yamaha Jog could be the only 50cc scooter you buy for the next twenty years. Incredible really.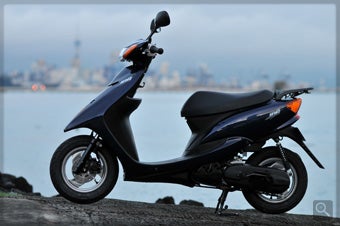 Summing up
It works like this…if you're looking for a 50cc scooter and they sell the Yamaha Jog CV50 in your market, then buy it, buy it now. Here in New Zealand they continually sell out, so be quick. There isn't a better all round 50cc scooter on the market for the price. The Jog's only failing point is its rather outdated styling, if Yamaha would put some effort in and actually make the bike look like something from this century they would have all market segments covered. Still…with all 13 scooters parked downstairs I reached for the Yamaha keys every time...oh except when I was meeting girls, then I took the Vespa.
Conclusion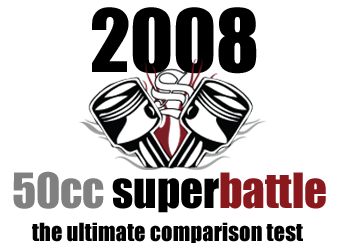 So after seven days, 100 laps of the test track, 1000kms (621miles) of road riding and about 27 dollars of fuel (really that's all we spent…God, I love scooters) we have our first comparison test done and dusted. The Yamaha Jog took out a much deserved win with the Vespa S in 2nd place and the Vmoto Milan and Keeway Venus in equal 3rd.
The Vespa S is a superb bike but simply way overpriced to be a real threat to the Yamaha Jog in this test. The VMoto and Keeway's solid third places are definitely a sign of things to come.
With scooter sales increasing at warp speed in nearly every country on earth it will be fascinating to see what the various manufacturers come back with next year. I imagine the smart companies will start adding proper electronic trip meters and obviously disc brakes all round to separate their bikes from the competition. Maybe Vespa will fight back with more aggressive pricing on their entry level bike or even a budget lightweight model
Another question that remains to be answered is where is Kawasaki? Why on earth haven't they got a range of scooters in their line-up? They claim they're only interested in motorcycles but with Kawasaki dealers all over the world crying out for scooters they'll have to fold soon. Maybe Suzuki will fight back with an immediate update and new features on the AZ50
Piaggio, one of the worlds most respected scooter brands certainly won't be happy to see the Zip in last place, but that's where it deserved to finish. Did anybody at Piaggio actually ride the Zip, and if so why didn't they realize it was so horribly slow? There's no question they'll answer with a better bike. Why not give us a lightweight and modern 50cc version of the Piaggio Fly, it'd have to be a hit. Hell ring me, I'll happily tell you what you need to win the 2009 50cc Super Battle
All that remains to be seen, because right now it's the Yamaha Jog CV50…winner of the 2008 50cc Super Battle.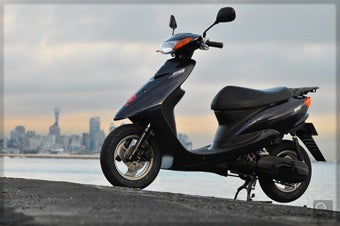 Results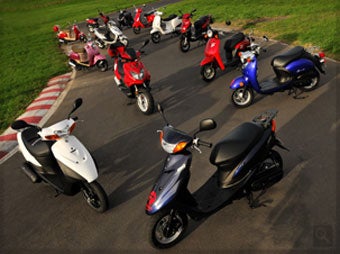 Here are the results for the 2008 50cc Super Battle. The top result for each category is highlighted in red.
Note: Results are given as a mark out of 10 with 10 being the best result.
| | | | | | | | | | | |
| --- | --- | --- | --- | --- | --- | --- | --- | --- | --- | --- |
| Scooter | Lap Rating | Road Course | Handling | Performance | Fuel Consumption | Value for money | Ease of Use | Styling | Build Quality | Total |
| Yamaha Jog | 10 | 9 | 9 | 9 | 8 | 10 | 9 | 6 | 9 | 88% |
| Vespa 50S | 7 | 9 | 7 | 8 | 8 | 5 | 8 | 10 | 10 | 80% |
| Keeway Venus | 8 | 8 | 7 | 8 | 8 | 9 | 8 | 8 | 7 | 79% |
| Vmoto Milan | 8 | 8 | 7 | 8 | 8 | 9 | 8 | 8 | 7 | 79% |
| Suzuki AZ50 | 9 | 8 | 8 | 8 | 6 | 9 | 6 | 8 | 7 | 77% |
| Vespa LX 50 | 7 | 8 | 7 | 8 | 8 | 6 | 8 | 8 | 9 | 77% |
| Honda Today | 6 | 7 | 8 | 6 | 10 | 9 | 7 | 7 | 8 | 76% |
| Adly Silver Fox | 9 | 7 | 7 | 7 | 7 | 8 | 7 | 7 | 7 | 74% |
| Yamaha Vino | 7 | 7 | 8 | 6 | 7 | 6 | 8 | 8 | 8 | 72% |
| Lifan Metro | 5 | 7 | 7 | 5 | 9 | 9 | 7 | 6 | 6 | 68% |
| Urban R4 | 7 | 7 | 8 | 7 | 5 | 7 | 6 | 7 | 6 | 67% |
| PGO PMX | 6 | 7 | 7 | 7 | 8 | 5 | 6 | 6 | 7 | 66% |
| Piaggio Zip | 4 | 6 | 8 | 1 | 10 | 6 | 6 | 8 | 9 | 64% |
Here are the performance figures and test results for the 2008 50cc Super Battle.
Scooter
0-50kph
Top Speed
Economy
Lap time
Dry Weight**
Yamaha Jog
8.7
61
2.8l/100 85MPG
42.8
69kg
Vespa 50S
12.0
64
3.1L/100 76MPG
45.4
96kg
Vmoto Milan
10.8
67
2.8l/100 85MPG
43.8
66kg
Keeway Venus
10.9
67
2.8l/100 85MPG
44
66kg
Suzuki AZ50
9.6
60
3.6L/100 65MPG
43.5
72kg
Vespa LX 50
11.7
62
3.0L/100 79MPG
46
102kg
Honda Today
15.2
57
2.5L/100 94MPG
47.3
71kg
Adly Silver Fox
11.8
61
2.8l/100 85MPG
43.5
75kg
Yamaha Vino
14.6
*50
3.6L/100 65MPG
45.1
76kg
Lifan Metro
14.9
63
2.6L/100 91MPG
47.3
93kg
Urban R4
14.0
70
4.2L/100 56MPG
46
86kg
PGO PMX
14.3
74
3.0L/100 79MPG
47
92kg
Piaggio Zip
19.9
65
2.4L/100 96MPG
47.8
89kg
*top speed restricted
**NB Weight is as per Manufacturers specification
Comments
(26)


Subscribe to this comment's feed