Page 7 of 16
6th Place: Adly Silver Fox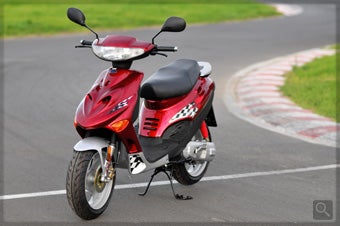 The silver fox. Man do I want to buy one of these little guys. Not for the reasons normal humans buy scooters, my reasons are far more complicated. I want to buy one so that when people ask me what I ride I can say (Read this in a deep voice and like Clint Eastwood) " I ride…a Silver Fox". That's gotta get me laid…anyway the Adly Silver Fox is when things start to get serious in the test. Things are getting tighter now, mere percentage points separate most of the remaining bikes. I'd happily own it.
On the road
The Adly has an advantage like the Urban and PMX; big wheels. The big wheels give the bike a more compliant ride over road imperfections and the bonus of a larger contact patch for more grip. Over the road course the Adly really did everything well; reasonably solid acceleration, a good top speed and it held its speed up hills. The Adly's only real failing point is its relatively uncomfortable seat.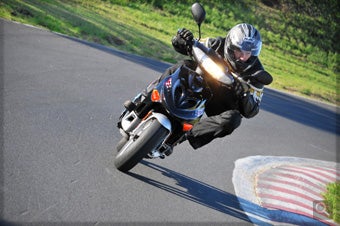 On the track – lap time 43.5
The Silver Fox really worked well for me on the track. It's a basically a small bodied scooter with big wheels so it's easy to throw around while having the advantage of extra grip. Brakes were solid, handling was very predictable and the bike really never put a foot wrong. The fact that the Silver fox clocked our equal 2nd fastest time is a good indication of how well it handles. Due to lack of time we had to run the Adly a few days later hence why the bike pictured varies in color. (They sold the red one on us) Seems scooters sell fast these days.
Living with it
The Adly is probably slightly better than average to live with. Fuel consumption is about average for a 50cc machine but the Adly includes storage for a full face helmet, a lockable glove box up front, a side stand as well as a centre stand and a reasonable dash with high beam indicator and fuel gauge.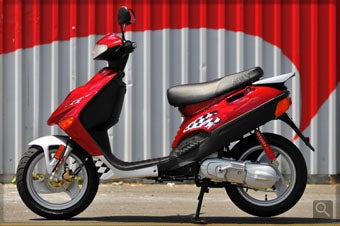 Summing up
The Silver Fox is an all round solid scooter at a very competitive price in most countries. The lap time alone is a clear indication of how well it rides. It would certainly suit anybody looking for the secure big wheel feel the bike provides. It's surprising a bike this good ended up in 6th. Again it's so tight that just a few percentage point changes would see it near the top.