Page 15 of 16
Conclusion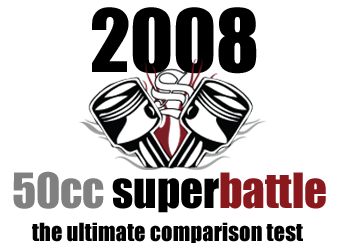 So after seven days, 100 laps of the test track, 1000kms (621miles) of road riding and about 27 dollars of fuel (really that's all we spent…God, I love scooters) we have our first comparison test done and dusted. The Yamaha Jog took out a much deserved win with the Vespa S in 2nd place and the Vmoto Milan and Keeway Venus in equal 3rd.
The Vespa S is a superb bike but simply way overpriced to be a real threat to the Yamaha Jog in this test. The VMoto and Keeway's solid third places are definitely a sign of things to come.
With scooter sales increasing at warp speed in nearly every country on earth it will be fascinating to see what the various manufacturers come back with next year. I imagine the smart companies will start adding proper electronic trip meters and obviously disc brakes all round to separate their bikes from the competition. Maybe Vespa will fight back with more aggressive pricing on their entry level bike or even a budget lightweight model
Another question that remains to be answered is where is Kawasaki? Why on earth haven't they got a range of scooters in their line-up? They claim they're only interested in motorcycles but with Kawasaki dealers all over the world crying out for scooters they'll have to fold soon. Maybe Suzuki will fight back with an immediate update and new features on the AZ50
Piaggio, one of the worlds most respected scooter brands certainly won't be happy to see the Zip in last place, but that's where it deserved to finish. Did anybody at Piaggio actually ride the Zip, and if so why didn't they realize it was so horribly slow? There's no question they'll answer with a better bike. Why not give us a lightweight and modern 50cc version of the Piaggio Fly, it'd have to be a hit. Hell ring me, I'll happily tell you what you need to win the 2009 50cc Super Battle
All that remains to be seen, because right now it's the Yamaha Jog CV50…winner of the 2008 50cc Super Battle.