Page 8 of 16
5th Place: Honda Today Motorino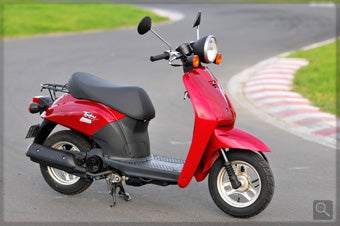 The Honda Today is a no frills approach to scootering. On paper it certainly doesn't look like a very special bike. It's not very fast, it's not amazing to look at, and it's a pretty basic machine. It is however a great little bike to ride. Its light weight and overall design just make it perfect for inner city commuting. I secretly knew the little Honda would sneak up the ranking.
On the road
Over the test course the Today did exactly what I expected it to. It was completely drama free in all departments. The bike is small and so are the wheels so it's not the smoothest ride but who cares when it's so fun to throw into corners. Something about the little Today just makes you want to ride like a crazed loony through traffic…yelling, the whole way "I beat you".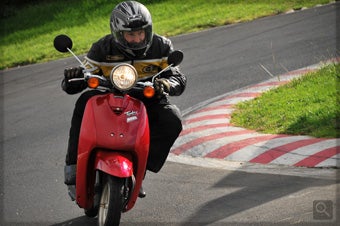 On the track – Lap time 47.3
On track the Today was a little slower than I expected. The bike was very easy to ride as I did basically my fastest time on the very first lap. From there each lap was essentially the same. I imagine it's just the very thin tires and weak four stroke power output that slowed it down. Still, it's so easy to ride anybody could ride it fast.
Living with it
The Today is very easy to live with. It takes a full face helmet, has good clear gauges, is dead easy to move around and does incredible gas mileage. We returned 2.5L/100 kms (94MPG) which is a superb result. Imagine it, you put in a gallon of fuel (3.8 liters) then ride a nine mile (15kms) commute ten times…TEN TIMES. To work and back for two weeks for $4. Why everyone on earth doesn't have one I don't know.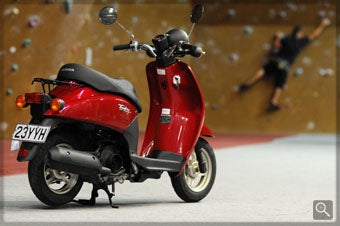 Summing up
Well the Today is pretty straight forward. It's exactly what a scooter is to most people. It's cheap to purchase, nearly free to run it's so good on gas and is built well so will run longer than most of us will live. I still think it's the bike to have for inner city commuters.
Honda Today Motorino 50 Review