Page 2 of 16
11th Place: Piaggio Zip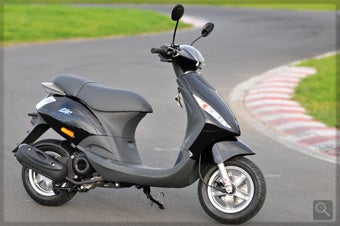 The Piaggio Zip is slow. Imagine this…a snail. No, a wounded asthmatic snail. Nope…hold on. A wounded asthmatic snail dragging a Humvee, the Humvee has no wheels though. Sitting on the Humvee is the entire 49ers football team…and it's in sand, going up a hill. It's that slow. In fairness the Zip is a fully legal and fully restricted four stroke 50cc scooter so it was never going to be rapid. Word is, that with its restriction removed it is a little quicker. I certainly hope so. We clocked it at 19.9 seconds to 50kph (31mph). This should put it into perspective; 19.9 seconds is almost the same amount of time it takes the Yamaha Jog to accelerate to 50kph come to a complete stop and accelerate back to 50kph (31mph) again… crazy.
On the Road
On the road the Zip suffers from the same problem. Severe lack of power. Up hills you instantly become a small four stroke speed bump to any cars behind you. On flat ground it isn't so bad as the bike gets up to a reasonable top speed. It's actually a real shame as the suspension is nicely sorted and the front brake is strong. All round it's a very nice handling 50cc machine. It's just way too slow to be practical to any normal human being driving on the road with other vehicles.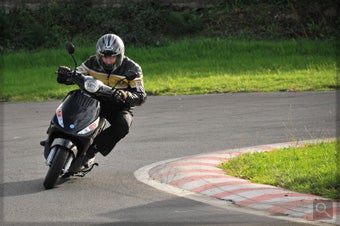 On the track - Lap Time 47.8
It was in reality quite hard to judge the Zip on track as it was so slow I was able to take the two faster corners without even lifting the throttle; so I never really got to push it. I must say that the Zip was actually very stable and remarkably easy to ride. I'd call it very similar to the Yamaha Vino and Honda Today in that respect. The Zip does run a front disc brake which makes it superior to the other four stroke bikes. With some more power the zip would probably rank surprisingly high on the track.
Living with it
Living with the Zip is about middle of the road. It just falls down on a few conveniences offered on other bikes. It won't take a full face helmet in the under seat storage area, doesn't have a glove box and has no remote release for the seat. The Piaggio does however excel in one department…fuel economy. How does 2.4L/100kms or 96.6 MPG sound? This is the best result we've ever returned; regardless of engine size. On top of that the Zip is certainly one of the better built bikes in the test and it's quite nice to look at too. Altogether it's a very reasonable proposition if fuel economy and overall quality are your chief concerns.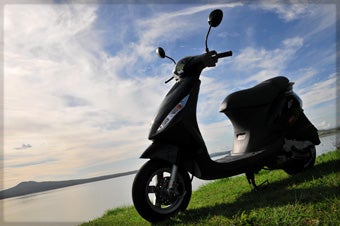 Summing up
Finishing in last place may sound like bad news till you take a look at the numbers. Overall there really isn't a vast difference between top and bottom. It just comes down to some bikes being better in a larger portion of categories. The Zip really is a very nice scooter; it's just very very slow. If you live in a flat city without any major hills on your commute then the Zip is definitely worth a look. On top of that it is so incredibly good on gas…