Page 10 of 16
4th Place Equal: Suzuki AZ50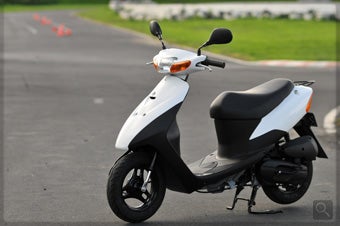 I think Suzuki knew I was writing this article and very carefully named their bike something boring so I couldn't do my usual piss taking of the name. Well you were wrong Suzuki people. AZ50, I mean what were you thinking, you might as well have called it @, just like Prince you could have had it known as a symbol. Even that stupid idea has more merit than AZ50…it's not even a name. It's an accident a rather ill technician made at the factory. The technician was filling in a form for a valve seat order then fell over and died while writing... AZ50 is the name of a bolt. That's what happened. The name may be bad but the bike is a total blast.
On the road
I rode the Suzuki on the road course after I'd ridden it on the track and I immediately noticed shortcomings not apparent on the track. The suspension is certainly not the highest quality of the bikes tested but the Suzuki is still great fun to hurl into corners, assuming they are very smooth corners as the small wheels and poor suspension didn't like mid corner bumps. The AZ50 is still one of the better bikes on the road because of its class leading engine and transmission combo.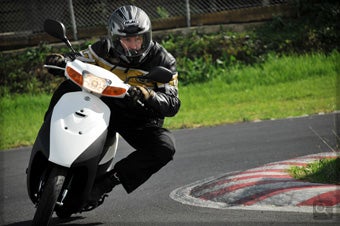 On the track - Lap Time 43.5
If I was ranking bikes on just track work the Suzuki would certainly be in the top two. This bike is so easy and so fun to ride it's a wonder everyone hasn't got one just to ride around a track on weekends. If you take braking performance out of the equation then the Suzuki would win hands down. The torquey little motor and light weight chassis feel perfectly matched on the track.
Living with it
This is where the Suzuki falls down. Suzuki basically built a fantastic engine, stuck it onto a great transmission then left it at that. They've compromised on pretty much everything else to meet a price point. There's no remote seat access, no disc brakes, no glove box and not even a high beam indicator. Now take a good look at the front forks, they look about as sturdy as hammer built out of balsa wood. We also returned below average fuel economy on the AZ50.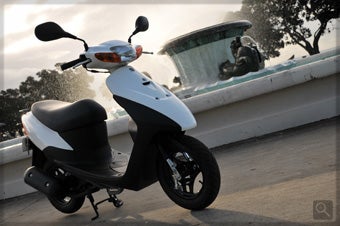 Summing up
Suzuki freshened up the styling of the AZ50 in 2008 and I must say the bike looks great now. Sadly they completely forgot to update the brakes to discs and avoided adding any creature comforts. Now this would be fine if they had no competitors…but they do. The Suzuki is still one of the best bikes to ride and it does look cool. It's certainly worth a test ride as it's got such a fantastic little motor.