Page 6 of 16
7th Place: Yamaha Vino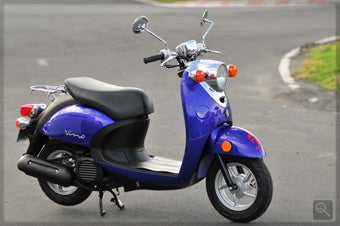 Do you own a long fur coat? Walk with a cane? If you're that way inclined in any way then the Yamaha Vino is your bag. It's certainly got the most pimp'n style of the bikes tested. There's plenty of chrome which is a vital element on any pimp ride. In fact the Southern Californian pimp's union is contemplating adding a minimum chrome level to their transport act2.v of 2006. Rest assured the Vino would easily make the cut.
On the road
On the road the Vino was a solid "good" and right on the cusp of "very good". The Vino still ran some form of restriction so was limited to a stop speed of 50kph (31mph). As you can imagine this put a damper on what would have certainly been a more solid performance. Handling was very predictable with a nice suspension set-up that dealt with most bumps reasonably well. Brakes were fairly solid but unfortunately there's no disc brake anywhere to be seen.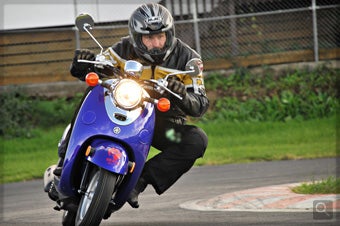 On the track – Lap time 45.1
The Vino was surprising on the track; its lap time of 45.1 seconds doesn't give you the complete picture. Factor in its slow four stroke acceleration and top speed cut and you can immediately see that it was surprisingly quick through the corners. I'd put this down to its small size and nice suspension set-up. With a bit more power the Vino would be great fun on track.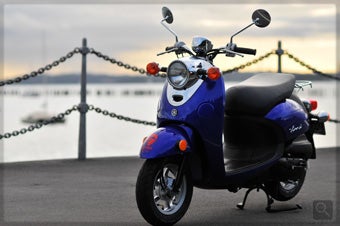 Living with it
Ease of use wise the Vino is very good. It has a large under seat storage area that will hold a full face helmet, small glove box up front, remote access to the under seat storage on the ignition and nice clear gauges. The only thing it really misses out on is a side stand. That being said the scooter is light and easy to put onto the center stand.
Summing up
The Yamaha Vino is probably most likely to compete with the Vmoto Milan and Keeway Venus. It's basically a style issue. You'll likely buy the bike you prefer the look of the most. You pay a bit more but gain the superior build quality of the Yamaha but being a four stroke you're never going to be as fast. Most pimps don't hurry, they cruise the streets; so it shouldn't be a problem.