Page 3 of 16
10th Place: PGO PMX 50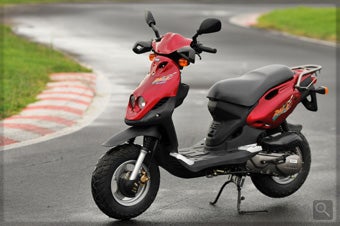 As I zipped around the track I wondered to myself "am I on a farm" because from where I'm sitting it sure look likes I should be. I'm not sure quite what look PGO were going for with this bike, I guess they were aiming at the rural farming café sheep and cow sector. It's not a big sector of the market but don't think it isn't something worth looking into. There'd have to be a least eight people worldwide interested in a scooter styled for a racey farmer who likes a good caramel macchiato. PGOs next bike is styled for the even more lucrative undersea hog and swine sector. It looks a bit like a cross between a mermaid and a deep sea racing Mullet…
On the Road
The PMX has a secret weapon on the road. It's loony-bin fast. Really, this thing hits a top speed of 74kph (46mph), which is the fastest of any 50cc scooter we've tested so far. This speed is both fantastic and somewhat dangerous. See on most 50cc bikes you twist the throttle open to full noise and hold it there the entire time you ride. Not so on the PMX, as it's so fast you run the risk of getting speeding tickets. The problem however is its tall gearing that gives it the speed, not extra power. This means acceleration from a standing start is pretty ordinary and hills really slow it down. The large wheels soak up most road bumps better than the usual 10inch wheels and together with reasonable shocks and a nice strong front brake add up to slightly better than average performance.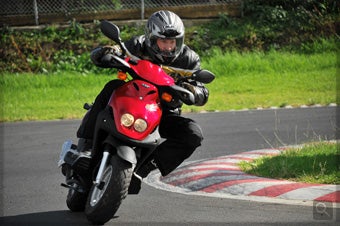 On the Track - Lap time 47.0
Around the test track the PGO felt considerably less nimble than most of the other bikes on the test. This is because the bike is both larger and heavier than most and the semi knobbly tires certainly didn't help with ultimate grip either. The front straight was simply not long enough for the PMX to get up to its incredible top speed and claw back some lost time. Overall it ranks a bit below average as a carving weapon.
Living with it
The PMX is certainly not a bad bike. In fact for some people it's probably perfect. The seat height was one of the tallest of the test group and with the overall dimensions of the bike it could work for larger riders. Unfortunately the seat is fairly far forward so your knees may end up under the handle bars. It will take a full face helmet under the seat and has a small glove box up front so it's better than some bikes when it come to convenience. Fuel consumption was good and overall build quality seems quite high as well.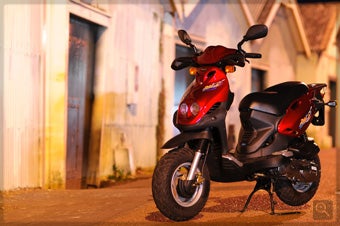 Summing up
So who's the PMX for then? To be honest I'm not entirely sure. There are certainly better bikes in this test for less money; however none of them will get you anywhere as fast as the PMX. On flat ground the PMX is a rocket bike. I'd say that if you live in a city without hills where traffic is fast moving then the PMX would probably be the best bike for the job…oh and if you live on a farm.