Page 9 of 16
4th Place Equal: Vespa LX 50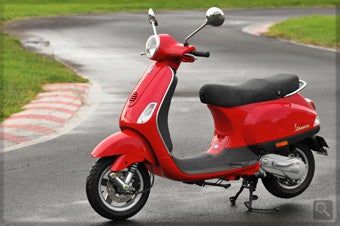 So the big Vespa only makes equal 4th. Well it's not a massive surprise to be fair. The Vespa LX is a great bike but has been around a while now. It's bigger and a lot heavier than most 50cc bikes so isn't quite as easy to live with as some. The biggest difficulty a bike like the Vespa LX has in a test like this though is price. An LX is the price of more than two Lifan Metro's. Yes the Vespa's an all round higher quality machine but it certainly isn't twice as good.
On the road
The Vespa excels in certain ways on the road. It's not fast, it's not slow and it's certainly not remotely sporty. It is however very secure on the road. This is what attracts some people to Vespa's; people who prefer a bigger more solid feel will love it. The bike is certainly less affected by bumps and imperfections than smaller lighter scooters. It's also got a reasonable sized seat so will carry a pillion better than most 50cc scooters.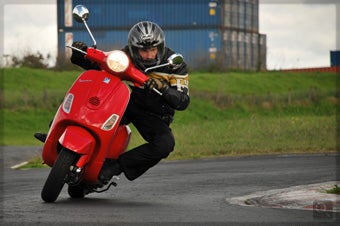 On the track - Lap time 46.0
The LX was never going to win the track battle…that was for certain. The Vespa weighs in at 102 kg, which is a full 33kg more than bikes like the Jog and Milan. So unless it had way more power or much stickier tires it simply couldn't be as fast. The LX also has a big wide seat which makes riding it fast rather difficult. All that being said the LX wasn't quite as slow as I thought it would be. A 46 second lap is still quicker than a fair few bikes.
Living with it
The Vespa LX is pretty easy to live with as it has most of the conveniences one expects of modern bikes. Really the only thing missing is a remote release for the seat. Given the bikes price I wonder why Vespa don't get around to adding this. I will say that the LX is probably not the best bike for small people. For example I see plenty of women riding them but I've also watched quite a few struggling to move them around.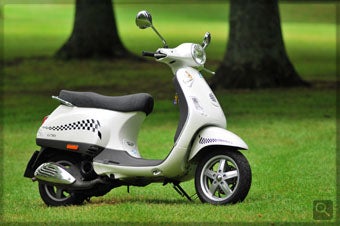 Summing up
The Vespa LX is still a bike very much worth considering. It's superbly built and will tend to hold its resale value far better than most scooters. If you're a bigger person then it should definitely go on your list of bikes to ride. Personally though…as soon as I saw the new Vespa S, the LX was old news.