Page 4 of 16
9th Place: URBAN R4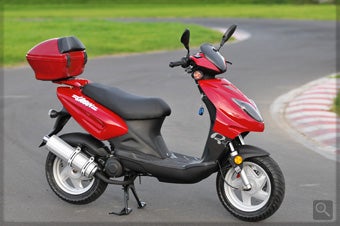 The Urban R4 is the 'seven series BMW' of the test group. This scooter has more wiz bang gizmos than a Japanese combination cell phone/hair dryer. (They're pretty gizmo laden and very convenient for the ladies or long haired 80's guitar players). The R4 is a good example of how to add perceived value. Take a pretty average scooter then add more features. What do you get? A super scooter, or at least one that appears that way if you only look skin deep.
On the road
On the road the R4 was again very similar to the PGO PMX. It posted a solidly fast top speed while also managing to be reasonably quick up hills. Suspension was also quite solid and combined with the larger wheels and overall size it's quite a comfortable bike on the road. I imagine larger riders who aren't interested in carving up tight turns and want a solid feeling bike would enjoy the Urban over most bikes in the test.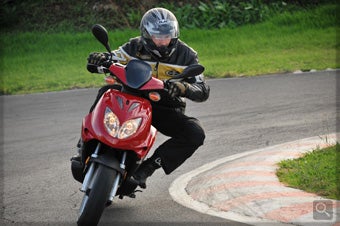 On the track - Lap time 46.0
The R4 was much like the PMX on the track. It felt heavy and cumbersome and was somewhat more intimidating to muscle around. Of all the bikes I was probably least confident on the R4. Partly because it was brand spanking new and the tires had not been scrubbed and partly because of its taller riding position. I imagine with more time on board I could certainly post a better lap. I must say its ABS brakes were strong and up there with the best.
Living with it
The R4 is a mixed bag in terms of how it would be to live with. The Urban has remote start off the key fob and an alarm…standard. It also runs ABS brakes on the front wheel. None of the other bikes offer these features and there aren't many that do at anywhere near the price of the Urban. Sadly they should really have got the simple things right before adding the gizmos. There's no remote release for the seat, no glove box and the fuel cap is the horrible, and vastly out of date kind that should be illegal. A few small changes and the R4 would be killer.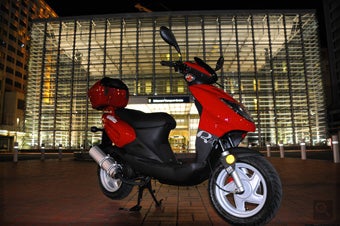 Summing up
The R4 is a whole lot of bike for a reasonable amount of money. The only reason it didn't finish further up the rankings is that it returned poor fuel economy. We repeated the test and got the same result so it's how we scored it. We'll re-test it again in the full review as I suspect it's just something up with the particular scooter we had for the test. All together the Urban is a great bike and would suit larger riders who want the extra features.