Page 5 of 16
8th Place: Lifan Metro 50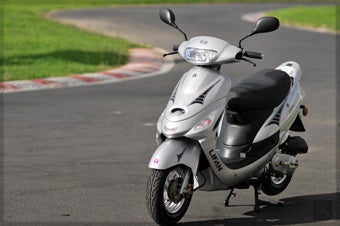 "If I follow my mind"…that's the line currently playing on my stereo. It's Jimmy Cliff and that's the name of the song too. Actually it's a pretty damn cool song. Look it up and download it…anyway. That about sums up the Lifan. If you followed your mind it's pretty hard to pass up. It's a quality Chinese bike that is incredibly cheap and provided it's supported in your country by a strong distributor; a very logical choice of scooter. Sadly most of us don't follow our mind; we follow our hearts or maybe our egos. This is why most of us want a Ferrari. Smart people want a Corolla.
On the road
The Lifan is a surprisingly nice bike on the road. The Metro gets up to a good top speed but is a little slow off the mark and up hills. Suspension is good and the front disc brake is strong with good feedback. All together the Lifan is about 'middle of the road' compared to the other bikes on the test. A bit more speed off the line and the Lifan would be right near the top of the list.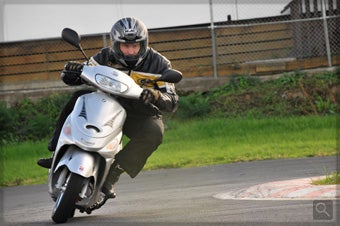 On the track – lap time 47.3
The Metro 50 was one of the slower bikes around the test track as it just didn't accelerate fast enough out of the corners to post a fast time. Braking and handling were actually pretty solid all round and it was generally very easy to ride. It's just the bikes lack of mid range power that hides its true potential. With a small change to the variators the Lifan Metro would certainly be quicker around the track.
Living with it
You get a hell of a lot of bike for your very small investment, that's for sure. The Metro will take a full face helmet and has a glove box up front. It also has a kill switch on the side stand which is something of a bonus for a 50cc bike. Build quality is not up to the likes of the Honda's and Vespa's but it's certainly better than one would expect for such a small outlay in funds. The Lifan Metro also happens to return incredibly good fuel economy at 2.6L/100kms - 91MPG. All round the Metro would be pretty easy to live with.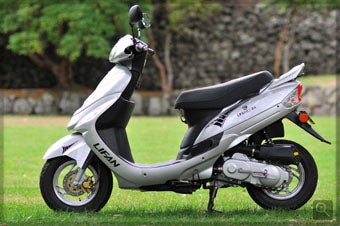 Summing up
This one's pretty easy. If you're tight on the cash and want to get into scootering for the least amount of money as possible; buy the Metro. It's a quality bike at an amazing price and will hold it's own against most scooters that cost twice as much.