Page 11 of 16
3rd Place Equal: Keeway Venus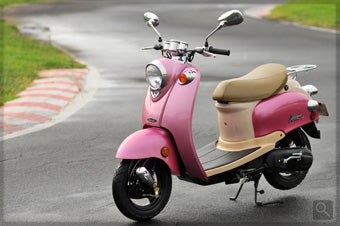 The Keeway Venus is a fantastic example of how far the Chinese manufactures have come in the last few years. A while ago there's just no way I'd have even considered a Chinese bike. Now it's all changed; a large portion of the bikes in this test are assembled there now. Keeway has a strong European component and it's this influence that has made the Venus such a solid bike. If there was ever a scooter that was going to be popular with the ladies…this is it.
On the road
Apart from feeling a little…well "Queen of the desert", riding the bright pink Venus around the road course was a lot of fun. Don't let its cute appearance confuse you; the Keeway is a 50cc road weapon. It's what a 50cc machine should be like; light, fast, easy to ride and economical. Obviously those traits mean it's never going to feel as solid on the road as, say a Vespa LX . Small light bikes with ten inch wheels like the Keeway don't pretend to be cruisers, they're straight up urban traffic weapons and the Venus is certainly one of the best.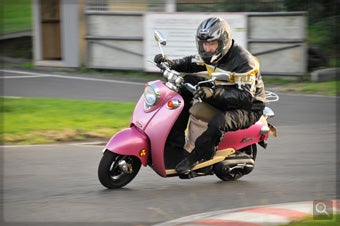 On the track - Lap Time 43.9
The Keeway Venus was a total surprise on the track. It was one of the first bikes I ever rode around our test track and after a billion attempts I clocked a 41.7 second lap. This was staggeringly quick for a 50cc bike. Fast forward to this comparison test and the best I managed was a 43.9 on exactly the same bike. Why so much slower? Well I didn't ride anywhere nearly as hard, I only rode each bike for 5 timed laps and most importantly the track was totally wet when we arrived and stayed green and very slippery for the remainder of the day. All that aside the Venus was fantastic on track. It's so light and easy to ride and has a great little engine; it just loves to be ridden hard. Definitely one of the best bikes on track.
Living with it
The Venus is about average when it comes to ease of use. It misses out on a glove box due to its retro shape and has no remote under seat access. It will however take a full face helmet under the seat and actually comes with a top box. On top of that the Venus is very small and light so it's very easy to move around. It also returned solid fuel economy for a two stroke at 2.8L/100kms (85MPG). The only real let down on the Venus are the drum brakes. It'd be a far better bike if Keeway fitted a decent front disc brake. Maybe next year's model?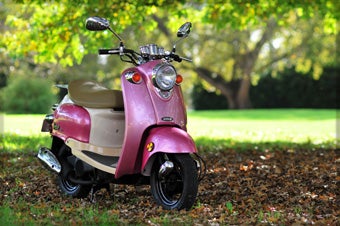 Summing up
I imagine if you're concerned with how your scooter looks or simply want something with a modern retro flavor the Keeway Venus is going to be it. Keeway really nailed the design of the Venus and it's simply a great scooter all round for a good price. Certainly a bike worth test riding and my pick for the ladies.